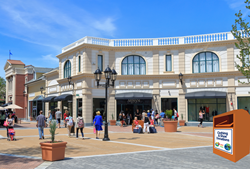 ATRS Clothing & Shoe Donation Bins take up only 5 square feet and provide ancillary income to retailers while decreasing their carbon footprint.
LAS VEGAS, NV (PRWEB) May 20, 2016
For the third consecutive year, American Textile Recycling Service (ATRS) joins over one thousand exhibitors in Las Vegas at SPREE RECon 2016 to share solutions for specialty leasing and sustainability at the global convention for the shopping center industry.
RECon provides networking, deal making and educational opportunities for retail professionals from around the world. While attendees aren't at seminars expanding their industry knowledge, they can meet and mingle with companies that offer beneficial products and services. ATRS is one of the many exhibitors in the Green Zone, promoting a donation bin leasing program that delivers a compelling onsite sustainability component to property managers, retailers and owners seeking ancillary income that lessens their impact on the environment and drives foot traffic.
"For the past two years, RECon has offered a unique opportunity to expand our specialty leasing partnerships nationwide," says Jonathan Armstrong, ATRS New Business Development Manager. "ATRS Clothing & Shoe Donation Bins take up only 5 square feet and provide ancillary income to retailers while decreasing their carbon footprint. We look forward to making new connections in our 14 service markets across the country. It's a WIN WIN for property managers, shoppers and our communities!"
Each bin hosted by ATRS leasing partners collects on average 50,000 pounds of usable clothing, shoes and other household textiles each year that might otherwise go to landfill. The carbon dioxide emissions saved by recycling these textile items equates to removing 13 cars from local highways annually. Potential new partners would be joining companies like KIMCO Realty, InvenTrust and Brixmor in hosting distinctive orange donation bins, thereby participating in a rapidly growing sustainability program and providing a much needed, free service in the community.
ATRS representatives will be at Booth 118 in the North Hall. Interested companies are invited to stop by SPREE RECon 2016 to become a retail partner, or simply call the 24-Hr Hotline at 866-900-9308 to discuss leasing options. Community members are also encouraged to call the hotline or visit http://www.atrscorp.com to find their nearest neighborhood donation bin.
About American Textile Recycling Service
American Textile Recycling Service (ATRS) is the nation's fastest growing textile recycler. Its socially responsible business model provides free textile recycling solutions for the public, job stimulation worldwide and much-needed funding for worthy local charities. Easy, convenient ATRS Donation Bins are available throughout Texas, Arizona, Atlanta, Colorado, Florida, Indiana, Michigan, Oklahoma, Southern California and Tennessee. ATRS is committed to keeping textile waste from local landfills and promoting a greener tomorrow. For press inquiries, contact pr(at)atrsonline(dot)com.