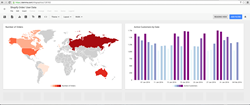 Sherman Oaks, California (PRWEB) July 05, 2016
The data analytics tool, Slemma, has just announced a new integration with Shopify. Business owners who use the e-commerce platform will now be able to easily build custom analytical reports and dashboards to gain insights on their business. Slemma works by building a multidimensional model for data, aggregating it, and providing teams with a completely new way to gain insights and interpret data in the cloud.
Integrate.
Save time and energy. Slemma's read-only connection allows decreases deployment by collecting data in minutes. The new Shopify integration allows users to analyze product, order sales, and payment data in the form of powerful, easy to build charts. E-commerce data grows every minute, so having automatically-updating, interactive visualizations can lead to an entirely new way of doing business.
Drill Down.
The knowledge gained from a business's history can be invaluable to future success. Slemma's platform allows ecommerce stores to have a centralized hub to work with their data. Slemma's 'Data Blending' feature enables analytics with multiple data sources in the same dashboard. Connecting to multiple databases and cloud services, Slemma builds reports from scratch with intuitive filtering and drill down options.
Answer difficult questions like...
"Do churned customers re-activate when they get a promo email?"
Or
"Did that last marketing campaign reach the kinds of customers I'm looking for?"
Share and Display.
Slemma's dashboards can be shared and supported over a multitude of devices. Teams will now have a common starting point when discussing the business. By having a deeper understanding of the trends in the data - ecommerce teams can stay engaged with the progress of thier company... whether via a desktop, tablet, or office TV.
Shopify customers can sign up for a 14-day free trial and see what kind of new insights they gain on their business.
About Slemma
Slemma is a cloud-based, data visualization tool that focuses on small to medium-sized businesses. The tool offers the ability to directly connect to various data sources and services to create informational dashboards without the need of coding or writing queries. This means that companies can have competitive data analytics without buying servers, hiring data scientists, or spending weeks learning the program before reaping the returns
About Shopify
Shopify is the leading cloud-based, multichannel commerce platform designed for small and medium-sized businesses. Merchants use the software to design, set up and manage their stores across multiple sales channels, including web, mobile, social media, marketplaces, brick-and-mortar locations and pop-up shops. The platform also provides a merchant with a powerful back-office and a single view of their business. The Shopify platform was engineered for reliability and scale, making enterprise-level technology available to businesses of all sizes. Shopify currently powers over 275,000 businesses in approximately 150 countries and is trusted by big brands including Tesla Motors, Budweiser, Red Bull, the LA Lakers, the New York Stock Exchange, GoldieBlox, and many more.