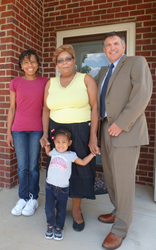 Asheville, North Carolina (PRWEB) May 21, 2016
Festiva, the developer for Festiva hotel and resort properties and the Festiva Adventure Club, recently presented a check to Ms. Wanda Cherry, the winner of a sweepstakes contest run by the company's marketing department. Ms. Cherry was one of hundreds of people who entered the sweepstakes between November 2011 and October 2015.
Scott Sonnone, Festiva's chief operating officer, presented the check in person to Ms. Cherry. She remembers entering the contest at an event at the Charlotte Convention Center several years ago.
"It was an honor to be able to present the prize to Ms. Cherry in person. This was a long-running sweepstakes held in several locations, and we were happy to find out that we could personally deliver the prize to the winner," said Sonnone.
Ms. Cherry said that she plans to use part of her winnings for a vacation with her entire family to Charleston, S.C.
About Festiva
Festiva is a family of boutique vacation ownership resorts located in some of the most popular destinations in the United States and Caribbean. Festiva constantly looks for new ways to offer exciting vacation opportunities to its members, while treating every guest like family. More information can be found at http://www.festiva.com.