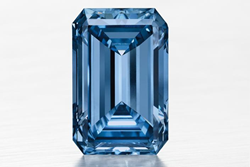 (PRWEB) May 20, 2016
On Wednesday May 18th, "The Oppenheimer Blue" diamond, a 14.62 carat Fancy Vivid blue emerald cut diamond from a De Beers Mine, was sold for $57.5 million at Christie's Geneva Auction.
Named after it's former owner, Sir Philip Oppenheimer, this blue diamond is the largest and the best quality blue diamond in the world making it officially the most expensive diamond and jewel ever sold.
"We are delighted that a De Beers diamond of this beauty and magnitude has been recognised as the finest of this world. This rare miracle of nature, like the Millennium Star before, an incredibly rare 203 carat flawless pear cut diamond, the "Oppenheimer blue" is another testimony of De Beers unrivalled mastery in diamonds since 1888," said Francois Delage, CEO of De Beers Diamond Jewellers, London.
Coloured diamonds have been known and treasured throughout history, the combination of colour and light enhancing their magic and mystique.
With over 125 years of diamond expertise and history, De Beers Diamond Jewellers ensures that all diamonds exhibit superior Fire, Life and Brilliance. A diamond's character unfolds from within its infinite depth and reflections. We hero the diamond as the most prized of all natures' treasures.
Meticulously hand selected for its beauty, it is said that for every natural coloured diamond there are some ten thousand colourless specimens.
Blue diamonds are very rare, the colour is caused by the inclusion of boron into the carbon structure – the more boron, the deeper the blue. Less than one per cent of blue diamonds fall into the 'Fancy Vivid' category.
Consistently at the forefront of diamond discovery, De Beers unceasingly seeks to push the boundaries of diamond assessment.
De Beers Diamond Jewellers is proud to maintain this pioneering heritage and bring to life exceptional diamonds.