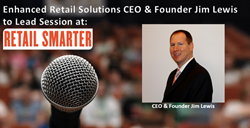 I love leading these kinds of sessions. Retail Smarter attracts top retailers and suppliers and the sessions are lively and informative. - Jim Lewis, Founder & CEO of Enhanced Retail Solutions
New York, NY (PRWEB) May 24, 2016
Enhanced Retail Solutions (ERS), a leading provider of Software-as-a-Service (SaaS) retail analytic and demand planning solutions to suppliers, licensors and their retail trading partners, today announced the speaking session on June 9th at the University of Florida's David F. Miller Retailing Education and Research Center's 2016 Retail Smarter Conference.
The annual Retail Smarter Conference (June 9-10 this year at The Vinoy Renaissance St. Petersburg Resort & Golf Club in Florida) brings together a diverse group of retail and industry participants for two days of speakers, panels, roundtables and networking.
Jim's discussion, entitled "How Are We Out Of Toothpaste Again?" will explore how the ever changing retail environment affects the ability to maintain the right product at the right place and at the right time. After walking through a real-life retailer-vendor collaboration effort that yields consistent year over year sales gains while improving inventory turnover, the discussion will open to help participants find solutions to pain points they might have.
Recognizing a trend in 2002 that retailers were increasing their expectations of the supplier base, Jim founded ERS to help improve the retail business acumen of suppliers. Over the last decade ERS has vastly improved the decision-making capability of retailers, suppliers and licensors enabling them to increase their sales, profit and inventory productivity. As a former Buyer at JCPenney, he managed or bought key categories in Men's, Children's and Home Textiles throughout his 20+year career. He was honored several times with executive level projects and sat on varying key company initiative task forces. Jim has been featured in Apparel, Home Textiles and Licensing publications including License and has conducted seminars at industry associations and trade shows including VCF, The Licensing Show, NEECOM and MAGIC. He was also quoted in The Washington Times.
"I love leading these kinds of sessions," says Jim Lewis, CEO of Enhanced Retail Solutions. "Retail Smarter attracts top retailers and suppliers and the sessions are lively and informative."
About Enhanced Retail Solutions LLC:
Enhanced Retail Solutions is a software and consulting firm specializing in retail analysis and demand planning for manufacturers, licensors and their retail partners. ERS' state of the art software tools and consulting deliver critical data quickly, easily and cost effectively, adding over one hundred million dollars to their clients' bottom line. ERS' broad customer base includes industry leaders in the electronics, consumer products, apparel, footwear, home textile, toy, home décor, home improvement, housewares, jewelry and food industries. Headquartered in New York City, Enhanced Retail Solutions has offices in the Dallas, TX and development in the US, Cork, Ireland and Delhi, India. For more information, visit http://www.EnhancedRetailSolutions.com.
About The Retail Center:
The major objectives of the Miller Center for Retailing Education and Research are to stimulate student interest in pursuing careers in retailing, prepare students for entry level management positions, provide continuing education opportunities for individuals currently in retailing, improve communications between retailers and academics so that academics are more familiar with problems facing retailers, and so that retailers can take advantage of new perspectives and insights arising in the academic community, and undertake research on retailing issues, opportunities, and problems. For more information, visit http://warrington.ufl.edu/centers/retailcenter/executive/retailsmarter/2016/