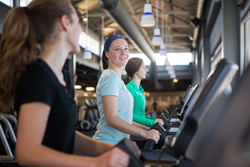 Lynchburg, VA (PRWEB) May 21, 2016
Liberty University is one of six colleges and universities that have chosen to join in Partnership for a Healthier America's (PHA's) Healthier Campus Initiative this spring. The campaign, supported by PHA honorary chair Michelle Obama, will help make healthier choices easier for more than 1 million students, faculty, and staff on 44 campuses across the country in the coming year. The announcement was made Thursday on a national stage at the "Building a Healthier Future" Summit in Washington, D.C.
"Colleges and universities are in a unique position to help shape tomorrow's leaders," PHA CEO Lawrence Soler said. "The college years are a time when lifelong habits begin to form, and for many students, this is their first opportunity to make their own choices about food and lifestyle. By creating healthier food and physical activity environments today, campuses and universities are encouraging healthier habits that will carry into tomorrow and for decades to come."
Working with a group of the nation's leading nutrition, physical activity, and campus wellness experts, PHA has developed a set of guidelines to build healthier environments for college and university students. These guidelines, addressing food and nutrition as well as physical activity and programming, were created to give credit for existing campus wellness efforts as well as to challenge colleges and universities to do more. Participating schools must achieve these benchmarks within three years.
Liberty is committing to 23 specific criteria, some of which were mandatory components. Examples of these include offering the following: a free first-semester orientation of the LaHaye Recreation and Fitness Center for all incoming students; personal training services; outdoor equipment rentals; and non-academic cooking classes.
"We are excited to be joining wellness leaders in higher education by committing to PHA," said Jamie Swyers, Liberty's associate director of fitness and programs. "We have many components in place and look forward to completing the remainder of the 23 guidelines in the upcoming three years to help continue to enhance well-being at Liberty."
Kristina DiSanto, Liberty's registered dietitian, said the partnership will help reinforce ongoing efforts to sustain a healthy student body.
"As a huge supporter of making the world a healthier place, I am so excited about Liberty's decision to commit to joining PHA," DiSanto said. "This commitment shows the school's desire to foster a healthy environment both in terms of food and activity. Over the next three years, we plan to offer more plant-based food options, introduce a wellness meal, and provide more low-calorie desserts. I hope the changes overall have both students and staff thinking about making healthy choices and how what they eat affects long-term health."
In recent years, Liberty has taken a proactive role in promoting healthy lifestyles on campus, including introducing the Live Healthy Liberty initiative, which has helped create a campus culture that educates, motivates, and empowers students, faculty, and staff to maintain spiritual, mental, and physical wellness.
A wide range of activities around campus — from intramural sports to paddle boarding at the Outdoor Recreational Center at Hydaway to gardening at the Morris Campus Farm — provides students outlets to reduce academic stress.
Swyers, who led a breakout session on the power of partnerships at the 2016 National Association for College and University Food Service (NACUFS) Mid-Atlantic Region Conference hosted by Liberty in early March, said participation in the Healthier Campus Initiative was made possible by a collaboration of multiple departments, including LaHaye Student Union, Dining Services, and Outdoor Recreation.
"This partnership is the result of a campus-wide effort to make the healthy choice the easy choice at Liberty," she said. "There have been meaningful contributions made by many departments, which were instrumental in being able to commit to the criteria required by PHA."
Both Swyers and DiSanto are attending this week's summit, where they are learning "tangible, actionable solutions" to help Liberty's students, faculty, and staff make smart decisions about what to eat and how to incorporate exercise into their daily routines.
Visit PHA's website for more information on the Healthier Campus Initiative.
About Liberty University
Liberty University, founded in 1971, is the largest private, nonprofit university in the nation, the largest university in Virginia, and the largest Christian university in the world. Located near the Blue Ridge Mountains on more than 7,000 acres in Lynchburg, Va., Liberty offers more than 500 unique programs of study from the certificate to the doctoral level. More than 200 programs are offered online. Liberty's mission is to train Champions for Christ with the values, knowledge, and skills essential for impacting tomorrow's world.