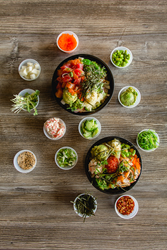 DIAMOND BAR, CA (PRWEB) May 20, 2016
AhiPoki Bowl, a fast casual build-your-own-poké bowl restaurant, has announced its opening for Monday, May 23 in Hollywood, California, at 5553 W. Sunset Blvd, #108.
AhiPoki Bowl's popular concept gives customers the opportunity to build their own Hawaiian poké bowl by selecting seafood, unlimited toppings, and flavor sauce over rice or salad; customizing the bowls to taste and diet. The seafood choices consists of tuna, yellowtail, albacore, salmon, octopus, scallop, and shrimp. In addition, there are seasonal specials like the Tuna Luau, a delicious mixture of ahi tuna and jicama, tossed with green onion, garlic soy mirin sauce, and a splash of sesame oil.
This will be AhiPoki Bowl's third location, with the first two locations in Temple City, CA, and Scottsdale, AZ. This location is approximately 1,600 square feet and has seating for 34 guests inside. There are plans to open 10 more locations throughout California and Arizona this year.
The grand opening event is slated for June 8, 2016, featuring a ribbon cutting ceremony with the Hollywood Chamber of Commerce and a special promotion of 50% off of any bowl with a purchase of a drink.
About AhiPoki Bowl:
AhiPoki Bowl serves the freshest sushi-grade seafood with only the best ingredients and spices inspired by Hawaii. The poké bowls are made to order every time, but beyond the quality is the guarantee with every poké dish served, there is a promise to deliver an affordable poké experience unlike any other.
Fans can receive promotions and news by "Liking" AhiPoki Bowl on Facebook at http://www.facebook.com/ahipokibowl. For more information, please visit http://www.AhiPokiBowl.com, @AhiPokiBowl on Twitter or @AhiPokiBowlCA on Instagram.
AhiPoki Bowl – Hollywood
5553 W Sunset Blvd, #108
Los Angeles, CA 90028
Phone: (323) 848-4467
Daily: 11:00 a.m. - 9:00 p.m.