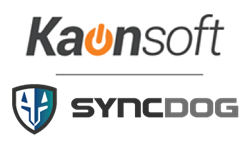 ...we'll have a chance to meet with 125 business leaders across multiple industries representing world-class data protection...
Reston, VA (PRWEB) May 20, 2016
SyncDog, Inc., the leading ISV for mobile application containerization, today announced a silver sponsorship and speaking engagement at the 6th M6 Mobility xChange Conference in Scottsdale, AZ, May 22-24th. M6 Mobility xChange is the longest-running hosted enterprise mobility summit focused exclusively on bringing an executive audience together to discuss strategy, policy, solutions, and security to advance their business objectives and capitalize on the rise of digital technologies.
This year's M6 Mobility xChange Conference will be held at the Hyatt Regency Scottsdale Resort & Spa at Gainey Ranch in Scottsdale. This conference is an invitation-only, hosted summit designed specifically for IT and business executives who want to understand how current and future mobile technology and trends will impact their business and investment decisions.
"We are proud to be silver sponsors at this year's M6 Conference, where we'll have a chance to meet with 125 business leaders across multiple industries representing world-class data protection through mobility," said Jonas Gyllensvaan, SyncDog president and CEO. "Mobility is increasing productivity and customer experience across these industries, but this creates a new and very real danger to the enterprise. We're focusing on this problem, and look forward to showing M6 attendees how mobile security is essential to business growth."
SyncDog and Kaonsoft Joint M6 Speaking Session
SyncDog and solutions partner, California-based Kaonsoft, will co-present a use case on the deployment of the Kaonsoft Enterprise Mobility Platform (KEMP) across one of the largest non-profit healthcare systems in Ohio, ProMedica. In this deployment, Kaonsoft has implemented its KEMP to expedite mobile application development across the ProMedica healthcare system while leveraging SyncDog's SentinelSecure™ application container to securely deploy all apps. The resulting technology is designed to streamline operations throughout the healthcare system and dramatically reduce the need for a paper trail. Todd Borowski, regional sales manager at Kaonsoft, will join SyncDog in Scottsdale and help present this use case.
For more information on the M6 Mobility xChange Conference, please visit http://www.m6mobilityxchange.com. For more information on the ProMedica deployment, please contact SyncDog here.
About the SyncDog SentinelSecureTM Containerized Workspace
Attendees at M6 can request a meeting with SyncDog to learn about SentinelSecureTM containerized secure framework for enterprise mobility. The SentinelSecureTM container technology is able to separate personal applications from business applications without compromising enterprise application security or functionality. Through both direct and partner channels, SentinelSecureTM provides proactive, complete security visibility across mobile and IoT infrastructures, with audit trails for security and compliance.
About SyncDog, Inc.
SyncDog is the leading independent software vendor (ISV) for building secure infrastructure frameworks that protect enterprise networks from cyber breach from mobile computing sources. The SentinelSecure™ product line for application containerization and IoT (Internet of Things) module monitoring provides the industry's most proactive approach to securing enterprise mobility computing.
The SentinelSecure™ data security solution delivers defense-grade (FIPS 140-2, AES 256-bit) secure mobile device partitions or "containers" that can secure emails/contacts, calendar items, IM apps, Internet browsers, mobile file stores and other business apps provisioned on personal devices to be used in a BYOD or COPE (corporate owned personally enabled) setting.
For more information on SyncDog products, please visit the SyncDog product page.
About Kaonsoft
Kaonsoft is an industry pioneer among mobile application development platform providers. Kaonsoft was the winner for Best of TechEd Awards 2014 in the "Breakthrough Technology in Cloud and Services" category. Kaonsoft was also featured in Microsoft Case Studies as the best practice in implementing mobility on cloud and selected for "Top 100 Microsoft Solution Providers for 2014" by CIO Review magazine. For more information, please visit http://www.kaonsoft.com.