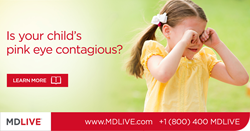 Sunrise, FL (PRWEB) May 20, 2016
Who: Dr. Deborah Mulligan, Chief Medical Affairs Officer for MDLIVE, a leading telehealth network of doctors and therapists.
What: Conjuntivitis, otherwise known as pink eye, is a common condition among children and can be easily spread. Caused by an inflammation of the conjunctiva, the clear membrane covering the white part of the eye and the inner surface of the eyelids, pink eye can be a result of bacteria, viruses, allergens, or chemicals. It often causes symptoms such as red or pink itchy, painful eyes; green or yellow discharge; and sensitivity to light.
According to Dr. Mulligan, there are a few preventative measures that parents can take to help prevent their child from getting pink eye:
1. Teach children careful hand hygiene. Touching eyes with dirty hands can spread bacteria, viruses, allergens, or chemicals, all of which can cause irritation or infection.
2. Sanitize objects commonly touched by hands or faces. Regularly cleaning tables, doorknobs, telephones, cots, cuddle blankets, toys, and other objects touched by hands or faces helps eliminate lingering bacteria, viruses, or allergens.
3. Don't share personal items like towels or washcloths. Pink eye can spread through touching an infected person or something an infected person has touched, such as a used tissue, towel, or other item that comes into contact with the eyes, nose, or mouth.
If a child shows symptoms, parents should contact a doctor right away. There are several types of pink eye, each with different causes, symptoms, and treatments. Some are extremely contagious, while others aren't contagious at all – a doctor will be able to determine the best treatment.
Where: People who are experiencing pink eye symptoms, or who have a child experiencing symptoms, should visit a doctor. Those who do not wish to wait days for an appointment, or who prefer a more convenient and hassle-free alternative to an office visit, can consult with a board-certified doctor at MDLIVE via secure online video, MDLIVE App, or phone. Average wait time for a consultation is less than 10 minutes.
When: MDLIVE has pediatricians on call 24/7/365. Parents are encouraged to set up their child's record under their account when they activate their account. Parents must be present on each call for children 18 or younger. From now until 5/31/16, MDLIVE is offering $10 off our consumers' next visit. All they have to do is enter PINKEYE in the offer code section on the payment screen to get this discount on their next phone or video appointment.
For more information and to read Dr. Mulligan's additional advice on pink eye prevention and treatment, visit the MDLIVE blog.
About MDLIVE
Founded in 2009, MDLIVE is a visionary and pioneer in the digital delivery of high-quality, convenient, cost-efficient care. The company provides consumers, health plans, health systems and self-insured employers with 24/7/365 access to board-certified doctors and pediatricians via secure online video, phone or the MDLIVE App. Instead of the inconvenience and expense of ER or urgent care visits for non-emergency issues, registered users can receive a virtual consultation through the company's HIPAA and PHI-compliant secure, cloud-based platform from home or on the go, and if necessary, obtain an e-prescription. Through Breakthrough, the company's behavioral health service, MDLIVE enables consumers to schedule video appointments with licensed therapists. To learn more about how MDLIVE is using telehealth innovations to improve the delivery of healthcare, visit http://www.MDLIVE.com.
Media Contact:
Michael E. Donner, Chief Marketing Officer
MDLIVE
+1 (949) 415 8004
mdonner(at)mdlive(dot)com