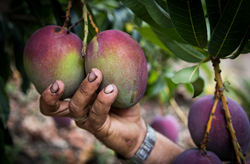 "...Rare's inclusive approach to managing water resources strengthens local capacities and understanding of the inextricable link between habitat and resources, ensuring long term success and sustainability of the program."
Arlington, VA (PRWEB) May 20, 2016
Timed to this year's May 22 International Day for Biological Diversity (IDB) as declared by the United Nations, the international conservation organization Rare is sharing an unprecedented photo series curated by photojournalist Jason Houston. In this series, Houston explores life in the small communities of Valle del Cauca, Colombia, a region ranked second in the world for biodiversity and in which people depend on dwindling water resources from surrounding cloud forest habitat. Houston's riveting photo installation captures the unique, collaborative relationship between Colombian farmers, governments and local community members all working together to both conserve water for their communities, and protect the biodiversity of the species which also call Valle del Cauca home.
As part of its clean, fresh water program, Rare and its partners are working to mainstream water conservation, essential to biodiversity, into widely accepted practices throughout communities like Valle del Cauca. With this year's IDB theme of "Mainstreaming Biodiversity: Sustaining People and Their Livelihoods" in mind, Rare is sharing Houston's Colombia photo series at https://www.rare.org/water-el-rincon-colombia.
Historically, the area captured in the photo series has faced significant challenges: deforestation of cloud forests through illegal logging and unsustainable farming practices have compromised habitat and threatened both water quality and supply so critical for the people of Colombia.
Rare's ongoing partnership with farmers, water users, and government authorities seeks to embed long lasting solutions across stakeholders that support both the protection of the area's natural resources and the livelihoods of those dependent on them.
Rare's work in these communities highlights the power of collaborative efforts in restoring and sustaining clean fresh water resources. In this project, Rare partners with the regional environmental authority Corporación Autonoma Regional del Valle del Cauca (CVC). To help solve the water problems in Valle del Cauca, a locally managed fund was established. Water users and local institutions voluntarily pay into the fund, sometimes simply through their water bill. The proceeds can then be used to provide incentives, such as fencing, for upstream farmers to implement farming practices which keep the water cleaner and the water flow more regular. The collaborative effort of public officials, water utility companies, and users from surrounding areas is paramount to the program's success, and has resulted in increased trust and participation across every sector.
"These community members are the main users and guardians of the ecosystems where they live, and they make the vast majority of daily environmental decisions with their land use and investment choices," says Colombia program Director Itala Yepez Zabala, "By embedding solutions directly into common practices, Rare's inclusive approach to managing water resources strengthens local capacities and understanding of the inextricable link between habitat and resources, ensuring long term success and sustainability of the program."
In an effort to provide conservation solutions that protect biodiverse ecosystems, Rare is working to directly integrate how water resources are distributed, accessed and paid for in the region. The clean, fresh water program is a positive example of how such work can impact the surrounding communities and biodiversity.
###
About Rare
Rare is an innovative conservation organization that implements proven conservation solutions and trains local leaders in communities worldwide. Through its signature social marketing campaigns (called Pride campaigns), Rare inspires people to take pride in the species and habitats that make their community unique, while also introducing practical alternatives to environmentally destructive practices. Employees of local governments or non-profit organizations receive extensive training on fisheries management, campaign planning and social marketing to communities. They are equipped to deliver community-based solutions based on natural and social science, while leveraging policy and market forces to accelerate change through programs such as Fish Forever. To learn more about Rare, please visit http://www.rare.org/.
For more information and downloadable imagery, please visit our electronic press kit at https://www.rare.org/en-press-kit.