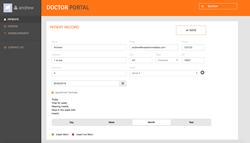 New York, NY (PRWEB) May 20, 2016
We Are Immediate, a leading web and app development company based in New York City announced today an innovative use for the open source content management framework, Magento. Magento Commerce is the leading provider of open source E-Commerce based websites. Magento's cloud-based digital commerce platform and omnichannel solutions empower online merchants to integrate digital and physical shopping experiences. Magento currently processes over $50 billion in online commerce annually.
We Are Immediate developed and designed an affordable patient records database using Magento software. Integrated with both an iOS and Android App, this unique use of Magento allows health care providers and physicians the ability to track patient visits, send appointment reminders, order products as well as track usage of specific products.
"Nothing like this has ever been done before," states Lori Shecter, CEO of We Are Immediate. "We provide health care professionals that sell products (such as chiropractors, podiatrists, dentists, etc.) a portal to actually be able to track their patients' health as well as their appointments."
Here's how it works:
We Are Immediate's client, WalkBeyond, sells custom orthotics to podiatrists throughout New York. A patient can easily find a podiatrist in their neighborhood that sells WalkBeyond orthotics.
Once the patient contacts the practitioner, the patient has a medical record is opened, complete with appointments, health needs, and product needs. Since the patient record is integrated with a Health Data Interface, the provider can monitor patient usage of the product and exercise levels. This unique mash up between Magento, Health Tracker, iOS and Android has a far-reaching impact toward improving the communication between physician and patient, allowing the physician unique view of the patient's health and activity lifestyle.
"We are very excited to have been a part of this project," states the CEO of WalkBeyond. "Our product provides all physicians a complete understanding of how patients adhere to prescriptive advice." In addition, WalkBeyond reports a huge increase in sales since launching the new Magento Website.
Offering complete flexibility, the Magento store also allows patients to order product directly from WalkBeyond.
We Are Immediate has extensive experience in developing custom e-commerce solutions as well as custom experiences for many industries and functionalities including Non-Profits, Medical, Legal, Government, Online Event Registration, Start-Ups, and Data Visualization tools. Do you need a new website or website consultation? In celebration of our new product launch, We Are Immediate is giving away a free hour of discovery to help your company grow in 2016!
For more information about We Are Immediate, go to http://www.weareimmediate.com or contact us at 212-929-9980