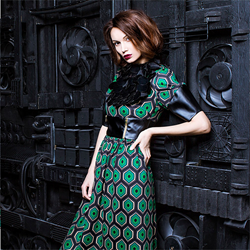 Miami, FL (PRWEB) May 24, 2016
Officially launched in May 2016, Lodge & Cooper is a curated, luxury online boutique featuring the most influential independent and established brands from around the globe.
To complete Lodge & Cooper's eclectic style profile - a compelling mix of sophistication, glamour, edge, and whimsy, the site blends high-ticket items from runway favorites alongside emerging labels positioned to be the stars of the future. The variations featured enable Lodge & Cooper to present a singular curated vision over a range of price points.
Currently, Lodge & Cooper works with over 70 haute couture and fashion-forward women's apparel, accessory, and jewelry designers and brands from around the world, including 3.1 Phillip Lim /Alexander McQueen /Alexander Wang /Allegra London /Ancient Greek Sandals /Andy Ve Eirn /Anjé /Artemisia /Bavaud Design / BEGADA / BISJOUX / Blushfashion / Celine H2o / Christian Louboutin / Emma Wallace / EON Paris / Francesca Romana Diana / Gena Myint / Gia Rodriguez / Gideon John London / Giuseppe Zanotti / Gucci / Johnny Fly Co / KEYCLUE / Le Chic, LLC / Lodge & Cooper / Manic Trout / Manolo Blahnik / MASHIZAN / Maslinda Designs / Melie Bianco / NARCES / Nosh Kay / OAOA studio / Party Line Tees / PerePaix / Peter Pilotto / Prada / Roger Vivier / Roksanda / Saint Laurent / Salwa Owens / SíSí Design / Valentino.
Our dedicated sourcing team is always on the lookout for talent and trends to make sure that our collection stays fresh and new.
We offer free standard shipping throughout the U.S., easy returns, and white-glove customer care via phone and email.
Please visit us at http://www.lodgeandcooper.com. High-res images, interviews, and additional information are all available upon request at press(at)lodgeandcooper(dot)com