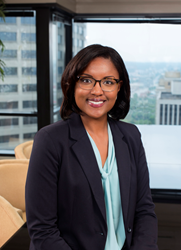 Nashville, TN (PRWEB) May 23, 2016
Bone McAllester Norton is pleased to announce the addition of Raquel L. Bellamy. Raquel is an experienced litigator with an extensive background in labor and employment law.
Prior to joining this firm, Raquel dedicated a great deal of her time to defending and advancing immigrant rights, representing individuals from over 40 different countries. As an Associate at her previous firm, Raquel actively worked on cases involving immigration and nationality law, labor and employment law, class action litigation, social security and disability law, and municipal utility law. She has proudly represented unaccompanied minors in Juvenile Court seeking to obtain protection from abuse, neglect or abandonment.
"As we continue to grow, we are thrilled to welcome Raquel." said Chairman Charles W. Bone. "Her experience perfectly matches our needs and her dedication to work in this city is really important to us."
Raquel was selected by the Nashville Bar Foundation to be a member of the 2015/2016 Class of the Leadership Forum. She was also designated "Top 40 under 40" with The National Black Lawyers and included as "Top 100" National Trial Lawyers.
She is a cum laude graduate of Oakwood University with degrees in Finance and Spanish. Bellamy received her J.D. from Vanderbilt University Law School.
About Bone McAllester Norton PLLC
Bone McAllester Norton PLLC is a full-service law firm with 40 attorneys and offices in Nashville, Sumner and Williamson counties, Tennessee. Our attorneys focus on 18 distinct practice areas, providing the wide range of legal services ordinarily required by established and growing businesses and entrepreneurs. Among our practices, we represent clients in business and capital formation, mergers and acquisitions, securities matters, commercial lending and creditors' rights, commercial real estate and development, governmental regulatory matters, commercial litigation and dispute resolution, intellectual property strategy and enforcement, entertainment and environmental matters. Our client base reflects the firm's deep understanding and coverage of today's leading industry and business segments. For more information, call 615-238-6300 or visit http://www.bonelaw.com.