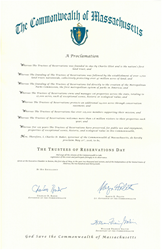 Boston, MA (PRWEB) May 20, 2016
The Trustees of Reservations (The Trustees) announced that Governor Baker has proclaimed May 21st as The Trustees of Reservations Day in Massachusetts. In addition, Senate President Stan Rosenberg and House Speaker Robert DeLeo have issued a joint resolution from the Massachusetts Legislature declaring that on May 21, 1891 Massachusetts Governor William E. Russell signed into law an "act to incorporate The Trustees of (Public) Reservations" creating the nation's first land trust.
Starting this Saturday, May 21st on The Trustees' 125th Anniversary, and every year following, The Trustees of Reservations Day will commemorate the importance and impact of The Trustees as the world's first land preservation organization founded by pioneering landscape architect and open space visionary, Charles Eliot. The Trustees of Reservations was followed with the establishment of over 1,700 land trusts nationwide, collectively protecting over 47 million acres of land, as well as being a catalyst in the worldwide preservation movement. Charles Eliot's founding of The Trustees of Reservations led directly to the creation of Metropolitan Parks Commission, the first metropolitan system of parks in America, which is known today as the Department of Conservation and Recreation.
The proclamation and joint resolution recognize The Trustees as Massachusetts' largest conservation and preservation organization, which, for 125 years, has preserved, for public use and enjoyment, properties of exceptional scenic, historic, and ecological value in this Commonwealth. Today, The Trustees shares and cares for 116 beautiful properties spanning 27,000 acres -- from barrier beaches, forests, working farms, and landscaped gardens, to community parks, historic homesteads, inns and campgrounds, and diverse recreational sites. The Trustees protects an additional 24,000 acres through conservation restrictions (or easements) from future development and has worked with partners to protect an additional 25,000 acres. The Trustees has over 125,000 members supporting its mission and welcomed more than 1.6 million visitors to its properties in 2015.
"We are proud to commemorate the long history and important work of the oldest regional land trust in the nation," said Governor Charlie Baker. "Our administration is dedicated to working with partners like the Trustees to protect our natural resources for generations to come and ensure all residents of the Commonwealth have access to open space."
"We are so honored to receive this distinguished proclamation from Governor Baker and resolution from the Massachusetts' Legislature," says Barbara Erickson, Trustees President and CEO. "To receive this recognition, coupled with an annual Trustees of Reservations' Day, at this important juncture in our history ensures the legacy of our pioneering founder, leaders, and generous supporters will be carried on in perpetuity among Massachusetts' residents and visitors. We are excited to receive this important distinction as we work to move our mission forward and engage more people to care for and appreciate the many scenic, iconic, and historic landscapes, landmarks, and natural resources that have been saved for their use and enjoyment."
Matthew A. Beaton, Secretary, Executive Office of Energy and Environmental Affairs, will deliver the proclamation on Governor Baker's behalf at The Trustees' 125th Gala Celebration on Saturday, May 21st at Appleton Farms in Ipswich. Appleton Farms is America's oldest continually operating farm and an iconic destination for locally grown food, dairy and meat products, as well as culinary and farm-based programs, summer and vacation camps and family festivals.
The Trustees are kicking off their 125th Anniversary with the Gala at Appleton Farms and a statewide, free "Home Sweet Home" open house day at nine of its historic sites on Saturday, May 21st. The kick off will be followed by a series of ticketed, special events including Meals in the Meadow at The FARM Institute, the Trustees' newest property on Martha's Vineyard on July 16; an Afternoon Garden Party at Naumkeag House & Gardens in Stockbridge on July 23; a performance by the Boston Pops and special guest Megan Hilty at the iconic Castle Hill on the Crane Estate in Ipswich on August 6th; and the Great Point Circle Beach Party on Coskata-Coatue Wildlife Refuge in Nantucket on August 25. In addition, The Trustees are hosting a series of 125th Anniversary-themed promotions and contests such as free property entry days, hiking contests, travel bingo games and more throughout the year. These experiences are designed to invite members, supporters, Massachusetts' residents and visitors to explore Trustees properties during this 125th Anniversary year and also share their stories, photos, and videos using #trustees125 when posting to social media channels. To learn more, visit http://www.thetrustees.org/125.
Press Contact:
Kristi Perry | Trustees PR Director |617.542.7696 x2123 | kperry(at)thetrustees(dot)org
###
The Trustees preserves and cares for some of Massachusetts' most treasured natural, scenic, and historic sites for public use and enjoyment. Founded in 1891 and celebrating our 125th Anniversary in May 2016, we are the world's first land preservation nonprofit and the Commonwealth's largest conservation and preservation organization. We believe in protecting the irreplaceable for everyone, forever. Our passion is to connect more people to outdoor recreation, culture, agriculture, and healthy, active living by using our 116 diverse properties, community spaces, and over 4,100 annual programs as a powerful and compelling platform. Located within minutes of every resident and visited by 1.6 million people in 2015, our properties span more than 26,000 acres across the state – from working farms, landscaped and urban gardens, and community parks, to barrier beaches, forests, campgrounds, inns and historic sites, many of which are National Historic Landmarks. In addition to our properties, we are also an active leader in land conservation. We hold conservation restrictions on more than 20,000 acres and have worked with community partners to help protect another 25,000 acres across the state. In 2014 we became a founding partner of the Boston Public Market, the first all locally-sourced indoor market of its kind in the nation where we operate our Appleton Farms vendor booth and serve as the educational programming partner for the Market's demonstration KITCHEN. Funded by our nearly 125,000 members and supporters, we invite you to get out, get inspired, and find magic in the moment at a Trustees property near you: http://www.thetrustees.org.