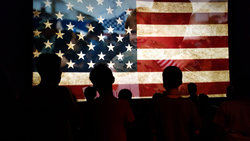 Thanks to Christie's unique system architecture, we were able to design a system that enabled the National Infantry Foundation to bring laser projection into their facility at a cost that was within their budget
Cypress, California (PRWEB) May 25, 2016
The Christie® and D3D Cinema upgrade from film to 6P laser projection at the National Infantry Museum's Giant Screen Theater in Columbus, Georgia is earning applause from the public, school groups, veterans and active duty service members. Installed by AV industry pioneer D3D Cinema, the two Christie Solaria CP42LH 6P laser projectors enable the theater to show a range of 3D content and Hollywood blockbusters – as well as alternative content and live events – to better align the theater with the museum's mission of providing guests with an immersive experience of the United States Army Infantry's valorous history.
Operated by the non-profit National Infantry Museum Foundation, which built and manages the facility and its content through a partnership with the U.S. Army, the museum's Giant Screen Theater is one of the largest in the Southeast, and the third in the United States to feature Christie 6P laser projection.
Delivering 4K resolution and an immersive experience on the 40-foot tall by 72-foot wide theater screen, two Christie CP42LH laser projectors produce a proprietary mix of photoptically-optimized light wavelengths for each eye directly from the source, in effect eliminating the need for a highly inefficient stage of filtering or polarizing the light as it leaves the projector. This results in vastly improved 3D light levels, image uniformity, viewing comfort, and an enhanced sense of immersion.
Future proofing with affordable Christie 6P laser
When the project received the green light, the Foundation wanted a Christie 4K Xenon lamp-based solution. However, after seeing the D3D installation of Christie laser at Moody Gardens in Galveston, Texas, the Foundation, working with D3D and Christie, realized laser was not only within budget but would provide a longer life and lower cost of ownership.
"Thanks to Christie's unique system architecture, we were able to design a system that enabled the National Infantry Foundation to bring laser projection into their facility at a cost that was within their budget – while also allowing them to easily grow and refresh the system as needed in the years to come," said Derek Threinen, Vice President, Film Distribution and Business Development at D3D.
"They now have a system that blows away the old system in terms of flexibility and functionality, while surpassing the previous visual and aural experience for their guests – and it does it all vastly-reduced operational cost. This impressive technology delivers those 'you are there' immersive experiences, while also allowing exhibitors to take advantage of a much wider variety of content to provide unique 'out of home' experiences in their theater."
Threinen said the modular nature of the Christie system means that even if the desired light levels evolve in the future to beyond what is on screen now, the museum – and any other customer considering Christie laser – can simply add light modules to increase the brightness on screen.
"And that is something no other manufacturer can offer. It's an inherent advantage to the Christie system," Threinen continued. "With the Christie modules being independently chilled, the modules can be easily replaced when they eventually begin to age or if there is ever a problem. Unlike other systems, you are still on screen with Christie, rather than having the whole system go down, causing lost shows and revenue."
Honoring the Infantry and wowing audiences
"From a picture quality standpoint and 'wow' factor, laser was it," said Jordan Beck, Creative Director and Special Event/Alternative Content Producer, National Infantry Museum Foundation. "With it, we can provide a spectacle that you can't get anywhere else. The Christie laser technology provides our audiences a truly immersive visual experience that tells our story in a more compelling way, while also giving us access to a more extensive range of meaningful content that was not available before."
"The audiences that knew our previous system are blown away by what they now see. And our new audiences just seem happier when they leave the theater," said Beck. He reflected on his own experience when he saw the laser projection system in action for the first time, "I was thrilled – just absolutely thrilled. The active 3D package is absolutely spectacular. We're very pleased with the results."
"Christie is very proud to play an integral role in helping the National Infantry Museum Foundation achieve its mission of illuminating the achievements and bravery of America's Infantry throughout history," said Kathryn Cress, Vice President, Global & Corporate Marketing, Christie. "D3D's expertise and Christie's laser projection technology can help institutions of all kinds tap into the huge possibilities of digital technology."
D3D Cinema was the first to install a permanent laser installation on a giant screen – at Moody Gardens – with a Christie 6P laser system.
About D3D Cinema
D3D Cinema offers complete digital cinema solutions and services to museum and attraction industry clients worldwide, providing a unique partnership approach to cinema design and 3D content production built around four core capabilities - theater design and installation, touring exhibition theaters, an award-winning library of content, and custom signature film production. D3D's production arm produces films for D3D Cinema, IMAX® and other giant-screen and museum cinemas. Comprised of institutional theater specialists, D3D excels in bringing first-to-market immersive cinema technologies to its clients, offering technology-agnostic consultation, strategic planning, installation, content production & distribution, operational support, and ongoing service. For more information, visit http://www.d3dcinema.com.
About the National Infantry Museum
The National Infantry Museum and Soldier Center, on a 155-acre tract linking Columbus, Georgia, and the Maneuver Center of Excellence at Fort Benning, is the first world-class site to pay tribute to the U.S. Army Infantryman and those who fight alongside him. The museum showcases the contributions of the Infantry Soldier in every war fought by the U.S. by offering immersive participation and engaging visitors in the unique experiences of the Infantry Soldier. The complex also includes a parade field, Memorial Walk of Honor, Vietnam Memorial Plaza, authentic World War II Company Street and Giant Screen Theater. For more information, visit http://www.nationalinfantrymuseum.org.
About Christie
Christie Digital Systems USA, Inc. is a global visual and audio technologies company and is a wholly-owned subsidiary of Ushio, Inc., Japan, (JP:6925). Consistently setting the standards by being the first to market some of the world's most advanced projectors and complete system displays, Christie is recognized as one of the most innovative visual technology companies in the world. From retail displays to Hollywood, mission critical command centers to classrooms and training simulators, Christie display solutions and projectors capture the attention of audiences around the world with dynamic and stunning images. http://www.christiedigital.com.
Follow us:
Twitter.com/christiedigital
Facebook.com/christiedigital
#christiedigital
"Christie" is a trademark of Christie Digital Systems USA, Inc., registered in the United States of America and certain other countries.
DLP® is a registered trademark of Texas Instruments
All other trademarks are owned by their respective companies.