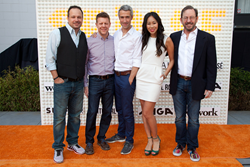 NEW YORK, NY. (PRWEB) May 20, 2016
Ping pong pandemonium ricocheted into San Francisco on the evening of Thursday, May 19th as SPiN, the original ping pong social club hailing from New York celebrated its official Grand Opening. An eclectic crowd of socials partied alongside celebrities and tech giants from 6:30pm – 8:30pm to welcome SPiN to the trendy SoMa neighborhood at 690 Folsom street. The public was invited to join the celebration at 9:30pm with a lively after party until 2:00am.
The evening's VIPs were greeted by a pop up shop of delicate pastries from B. Patisserie on the "orange carpet" and posed against a backdrop composed of 10,000 ping pong balls that spelled out "SPiN." Graffiti artist, Stikki Peaches whose mural and graffiti works are featured in the venue left much to mystery as he arrived sporting an embellished mask.
SPiN's multisensory experience was in full effect as crowds clamored to watch co-host and Instagram Sensation, The Fat Jewish arrive followed by a roaring marching band. Y Combinator Partner, Justin Kan took to the SPiN "orange carpet" in full speed on his glowing hoverboard. This set the scene for the rich energy and vibrant atmosphere that fans have grown to expect from SPiN. With Kan co-hosting, the tech community arrived in full support. Actress, Chloe Bridges and Philanthropist, Barbara Bush could be found enjoying rounds of ping pong and mingling with guests such as a member of Million Dollar Listing San Francisco. Reddit Founder and CEO, Steve Huffman; Luminar Technologies Founder and CEO, Austin Russell; Causes Founder, Joe Green; Rotten Tomatoes Founder, Patrick Lee; and The Battery Owner, Michael Birch joined the party as well.
Following a toast from Co-Founder, Jonathan Bricklin and a video montage of SPiN milestones, the San Francisco location debuted its 12,000 square foot venue consisting of its two bars, full-service kitchen, and 19 ping pong tables including patio-pong and private rooms to over 450 guests.
The party continued with bottles of White Girl Rose flowing as the house DJ kept the vibe upbeat while spinning the latest tunes. Center Court's Olympic style stadium seating was filled with spectators who cheered on SPiN pros as they sparred and dazzled guests with backspins, chops, and counter-smash strokes.
The highlight of the evening was when co-hosts, Justin Kan and The Fat Jewish challenged each other in SPiN's famed "Dirty Dozen" ping pong match. Beatboxer extraordinaire, Terry Im (KRNFX) leaped on a ping pong table and rocked the crowd with a performance mixed with favorites and rhythmic beats.
The evening brought together the best in entertainment, tech, community, and of course – ping pong.
Visit SPiN San Francisco from 11AM – 12AM on Sunday and Monday, 11AM – 1AM on Tuesday and Wednesday and from 11AM - 2AM on Thursday, Friday and Saturday. For additional information, visit WeAreSPiN.com and follow the conversation #wearespin on social media.
ABOUT SPiN
SPiN is a network of international ping pong social clubs that combine a unique mixture of sport, design and entertainment meant to inspire connections and shared experiences. Offering experiences from both day to night, the clubs feature engaging atmospheres such as ping pong courts, a full bar, restaurant and private VIP room. Memberships are available but are not necessary to reserve a ping pong table, take part in the nightly events, tournaments, private ping pong instruction with professional players, and casual socializing and play. Venues are currently located in San Francisco, New York, Chicago, Los Angeles and Toronto. For more information, please visit: http://www.wearespin.com #wearespin.