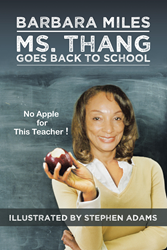 Our education system is at a pivotal moment in history.
ATLANTA (PRWEB) May 24, 2016
Most people remember what it was like to be in school, but how shocking would they find the challenges confronting teachers in today's classrooms?
In her new book, "Ms. Thang Goes Back to School," author Barbara Miles provides a humorous but eye-opening look at how teaching has changed in the past 20 years and how teachers need community support now more than ever.
"While unions have been decimated, budgets slashed, schools closed, classrooms overcrowded and even access to some very basic supplies limited, the lion's share of blame for the schools' failure has been leveled against the teachers," Miles said.
Miles spent most of her working years as founder and publisher for "Chocolate Singles" magazine, but she started her career teaching in Chicago and New York public schools. After her retirement, Miles welcomed the opportunity to return to her first passion.
"After retiring from my magazine, unaccustomed as I was to extended periods of idleness, I found myself looking for something that would offer both a challenge and a sense of pride in my work," Miles said. "A return to teaching was a natural selection since it was a field in which I had previously experienced a substantial amount of success."
But it wasn't long before Miles discovered that today's dysfunctional classrooms bear little resemblance to those she had known before. "Our education system is at a pivotal moment in history," Miles said. "Parents, teachers and community leaders need to work together on solutions."
For more information, visit http://www.teacherstalknow.com.
Ms. Thang Goes Back to School
By Barbara Miles
ISBN: 978-1-5049-5272-9
Available in softcover, hardcover, e-book
Available on Amazon, Barnes & Noble and AuthorHouse
About the author
Barbara Miles is a retired trailblazing magazine publisher who currently lives in Atlanta. Miles started her career over 20 years ago in teaching and was certified in both Chicago and New York City school systems. Today Miles works to shed light on the changes school systems have gone through in the last 20 years and to ignite a thoughtful conversation on the dismal performance of our schools on the global stage.
# # #
**FOR IMMEDIATE RELEASE**
For review copies or interview requests, contact:
Elizabeth Coomer
317.371.3919
ecoomer(at)bohlsengroup(dot)com