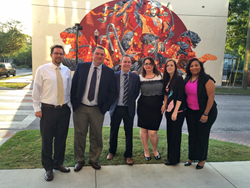 Best Foodie Master Planned Communities
Greenville, SC (PRWEB) May 23, 2016
Praise is in order for six members of The Cliffs' food and beverage team for earning their Level One Certification offered through the Court of Master Sommeliers' educational program's Introductory Sommelier Examination according to Real Estate Scorecard, an online property owner review website focusing on the best places to live in the South.
Joining The Cliffs' already established team of wine experts are Executive Chef Francis Turck, Restaurant Manager Angel Smalls and Service Professional Chelsea Pancoast of The Cliffs at Keowee Vineyards; Assistant General Manager John Williams of The Cliffs at Glassy; Food and Beverage Manager Tim Bynarowicz of The Cliffs at Keowee Falls; and Restaurant Manager Victoria Dubis of The Cliffs Valley.
"Paying homage to great wine and food is a cornerstone of The Cliffs' lifestyle, and I thank Eric Cooperman, our Beverage Director, and each of these individuals for their commitment to professional development and for improving the quality of the wine and food experiences for our members and their guests," states David Sawyer, President of The Cliffs Clubs. Sawyer continues, "The Cliffs' wine and food program has evolved into a robust offering many private clubs cannot compete with including top-ranked chefs, certified wine experts and nationally recognized event planners. Our annual culinary event, IMBIBE: The Cliffs Wine and Food Festival, now in its third year, has given us another opportunity to show The Cliffs' investment in providing an entertaining and happy lifestyle for our 6,000 members. All of this contributed to The Cliffs being recognized as the Happiest Community in America in 2016."
Now, with a total of twelve wine experts, two of which are level two Certified Wine Specialists through the Court of Master Sommeliers, The Cliffs continues to evolve its wine program through rotating wine lists, fun vintners dinners, casual tastings, monthly wine clubs, stock your cellar programs and educational symposiums. Earlier this year, The Cliffs received the "Award of Merit" from the Club Managers Association of America for its wine program.
The Introductory Certification Exam consists of an intensive two-day class and blind tasting ending with an exam assessing knowledge of not only wine, wine regions, grapes, vintages, producers, but also foreign language, beer, liquor, coffee, tea, cigars, world history, service standards, and beverage management and cost of goods sold.
About The Cliffs
The Cliffs is a collection of seven luxury residential mountain and lake communities located in the Blue Ridge Mountains, between two of the nation's top award-winning cities for quality of life - Greenville, South Carolina and Asheville, North Carolina – and Clemson, SC – home to top-ranked Clemson University. The Cliffs' suite of amenities for members includes seven clubs, seven championship golf courses, six wellness centers, boating, watersports, marinas, beach club, cycling, paddle sports, tennis complexes, equestrian center, hiking trails, wakeboarding, wine clubs, 50 restaurant and private event venues, an organic farm and more than 4,000 year-round social activities to create timeless experiences. Homes at The Cliffs range in price from $500,000 to $6 million+; homesites, from $125,000. For more information about The Cliffs, visit CliffsLiving.com or call 866-411-5771
About Real Estate Scorecard:
Real Estate Scorecard writes unbiased real estate reviews providing in-depth information about popular gated communities in Florida, Georgia, the Carolinas, Tennessee and Central America, all in an effort to help people discover where to retire in the South.
Website: http://realestatescorecard.com