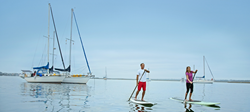 Sail Into Summer at Brunswick Forest - June 3-5 2016
Wilmington, NC (PRWEB) May 25, 2016
Folks looking at North Carolina coastal communities for a healthy and lively retirement, will find now is a great time to discover beautiful Brunswick Forest on the south side of the Cape Fear River according to Real Estate Scorecard. This June, buyers can explore this active community in Wilmington North Carolina, tour new homes, and enjoy some of the best wellness and sports amenities. From June 3rd-5th, folks are invited to the "Sail Into Summer Accommodations Package Event", a 3-day all inclusive tour through wonderful Brunswick Forest, where you'll see what its like to live in this 4,500 acre award winning master planned community.
During the "Sail Into Summer Accommodations Package Event", folks will get a savory taste of Wilmington NC retirement. Over three fun-filled days, the tour will include:
Two nights accommodation for 2 people
Owner privileges at all of Brunswick Forest's first-class amenities
Golf for two on Brunswick Forest's Cape Fear National golf course
A special tour of the master-planned community, and homes by custom home builders Wilmington NC
A sightseeing tour of Wilmington and the area's surrounding beaches
Guests will also enjoy a poolside party on Friday with cocktails and appetizers, as well as a Saturday Sun Fun Festival featuring water sports, refreshments and a cardboard boat regatta.
Of all the North Carolina coastal communities, Brunswick Forest is among the best when it comes to festive events according to Real Estate Scorecard and this is just one reason its a top choice for Wilmington NC retirement.
Residents at Brunswick Forest also enjoy fantastic amenities such as:
100 miles of paved and unpaved walking and biking trails
18 holes of championship golf on Cape Fear National® golf course
Indoor and outdoor pools for relaxing and swimming laps
An 18,000 square foot fitness and wellness center
Kayaking and canoeing on Town Creek, as well as fishing and picnicking
Fun events and social gatherings at the popular Community Commons
Folks considering living in Brunswick Forest will find homes by some of the best custom home builders Wilmington NC. The neighborhoods of Brunswick Forest include:
Cape Fear National - Here folks willl find premier golf course home sites up to half-an-acre, with spectacular views and natural private backdrops. Buyers wishing to create the custom home of their dreams may select a floor plan from a portfolio of custom home builders Wilmington NC. Home sites range from the $130s, with home packages from the high $400's.
Cypress Pointe - This neighborhood boasts classic southern architecture featuring expansive front porches for neighborly socializing, stately columns and classic lanterns evoking memories of times past. If you dream of Carolina blue skies and warm Southern nights, this neighborhood is great for families. Home sites range from the $100s, with home packages from the high $400's.
Meadow Park - Here charming coastal cottages and bungalow-style homes will feature cool, breezy exterior color palettes complimented by front-porch living and two-car garages. This new neighborhood will welcome folks with beautiful curbside appeal, front porch style living and green spaces for neighborhood enjoyment. Home packages will start from the $300's.
Park Landing - This is low country living, inspired in a prime location. Park Landing offers those with an active lifestyle a unique opportunity to test out their green thumb, break a sweat, or even take a fitness class, just steps from their home. The coastal homes of Park Landing offer open floor plans, gourmet kitchens, spacious master suites and baths, and a variety of finishes. Here folks will find home sites from the $80s, town homes from the high $200s, and home packages from the mid $300's.
Shelmore - This is an exclusive, quiet enclave of bungalow-style homes. Outside of their homes, Shelmore residents enjoy pocket parks throughout the neighborhood, as well as the spacious Hammock Lake Park. Featuring a three-acre lake with a white sand beach and walking trails that circle the lake, Hammock Lake Park is the perfect place for an afternoon picnic or an evening stroll. It's also home to the Annual Brunswick Forest Cardboard Boat Regatta. Here folks will find home sites from the $80's, town homes from the high $300's, and home packages from the mid $300's.
Tennyson Village - Tennyson Village at Brunswick Forest offers low-maintenance living at its finest with its brand new coastal town homes. Enjoy the mild, coastal climate in your private walled courtyard with an optional gas fire pit and easy access to your rear-entry garage. Vaulted ceilings with lots of window for added natural light combine with a soft exterior color palette to evoke images of sunny seascapes and days spent relaxing on the beach. Home packages here start from the $300's.
Brunswick Forest's award-winning home builders include Plantation Building Corp.,Fogelman and Associates, 70 West Builders, David Weekly Homes, Southern Homebuilders Inc., Logan Homes, Trusst Builders Group, Legacy Homes by Bill Clark, and several other custom home builders Wilmington NC.
If folks are considering Wilmington NC retirement in the best North Carolina coastal communities, then clear the schedule to explore Brunswick Forest during the "Sail Into Summer Accommodations Package Event". Real Estate Scorecard is confident folks will be impressed. The package is only $99 per couple, and a 3rd night's stay can be added for an additional $70. It's a smart opportunity to see the community, enjoy the high quality amenities, meet the neighbors, and see all that Brunswick Forest can offer at retirement.
Call Brunswick Forest direct at 877-588-4313 to schedule a tour and check on Discovery Package availability.
About Real Estate Scorecard:
Real Estate Scorecard writes unbiased real estate reviews providing in-depth information about popular gated communities in Florida, Georgia, the Carolinas, Tennessee and Central America, all in an effort to help people discover where to retire in the South.
Website: http://realestatescorecard.com