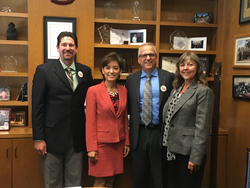 "Yamaha is committed to remain actively engaged with elected officials to support efforts to expand music education programs and maintain access for all students," said David Jewell, marketing and communications manager, Yamaha Corporation of America.
Sacramento, Calif. (PRWEB) May 20, 2016
The National Association of Music Merchants (NAMM) and representatives from its membership of 10,300 companies were joined by arts leaders and music educators who traveled to Sacramento on May 19 to ask Assembly members to update the state's Visual and Performing Arts (VAPA) standards.
David Jewell, marketing communications manager, Yamaha Corporation of America (YCA), and Barbara Wight, CFO of Taylor Guitars, served as co-chairs for the NAMM event. The two companies have corporate offices in the 65th State Assembly District – in Buena Park and El Cajon respectively. The meetings included a private session with Assembly Member Young Kim, who represents the 65th District and serves on the Education Committee and Budget Subcommittee No. 2 on Education.
California's existing VAPA standards were last updated in 2001. A new law must be passed for the VAPA standards to meet the district's Local Control Accountability Plan (LCAP) and the new federal guidelines found in "The Every Student Succeeds Act" (ESSA). The delegation petitioned Young Kim and other members of the Assembly to adopt AB 2862, which requires California to update and revise the VAPA standards for pre-K to 12 students and provide students with access to up-to-date curriculum, instruction and materials. If adopted, AB 2862 will require the State Board of Education to adopt the new standards by January 1, 2019.
"With the passage of the ESSA, the NAMM Board and Executive Committee have recognized the imperative of communicating directly with government officials at the State level," said Joe Lamond, president and CEO of NAMM. "This effort, driven by dedicated NAMM member volunteers, along with our education partners will result in increased access to music and arts education for all children and will have lasting impact in NAMM member communities long into the future."
The Sacramento advocacy trip was organized by NAMM, the California Music Education Association and Stand Up for Music, and attended by representatives of NAMM, Nick Rail Music, Rockin' Kidz LLC, Rock and Roll High, Taff Optical LLC, Taylor Guitars, Tim's Music, YourCableStore.com and Yamaha Corporation of America.
On May 23-26, Jewell will join a delegation of NAMM members in Washington, D.C. to discuss the importance of access to music and the arts as part of a well-rounded education. In meetings with Congressional leaders, NAMM representatives will communicate their support for FY2017 funding of music and arts programs authorized by the new ESSA law.
"Our leadership role, both in Sacramento and in our nation's Capitol, sends a clear signal to State and Federal policymakers who can make a difference in the lives of music students across the nation," said Jewell. "Music teachers, parents and students all consider music education vital. Yamaha is committed to remain actively engaged with elected officials to support efforts to expand music education programs and maintain access for all students."
-END-
About Yamaha
Yamaha Corporation of America (YCA) is one of the largest subsidiaries of Yamaha Corporation, Japan and offers a full line of award-winning musical instruments, sound reinforcement, commercial installation and home entertainment products to the U.S. market. Products include: Yamaha acoustic, digital and hybrid pianos, portable keyboards, guitars, acoustic and electronic drums, band and orchestral instruments, marching percussion products, synthesizers, professional digital and analog audio equipment, Steinberg recording products and NEXO commercial audio products, as well as AV receivers, amplifiers, MusicCast wireless multiroom audio systems, Blu-ray/CD players, earphones, headphones, home-theater-in-a-box systems, sound bars and its exclusive line of Digital Sound Projectors. YCA markets innovative, finely crafted technology and entertainment products and musical instruments targeted to the hobbyist, education, worship, music, professional audio installation and consumer markets.
About Taylor
Headquartered in El Cajon, California, Taylor Guitars was founded in 1974 by Bob Taylor and Kurt Listug, and has grown into the leading global builder of premium acoustic guitars. Taylor employs over 900 people and currently produces hundreds of guitars per day in its state-of-the-art factory complexes in both El Cajon and in Tecate, Baja California, Mexico. The company maintains an active dealer network, with Taylor guitars sold through hundreds of retail locations in North America and with international distribution to 60 countries, including a distribution warehouse and factory service center in the Netherlands.
Contact:
For Yamaha:
Peter Giles/Giles Communications
(914) 798-7120 (pgiles(at)giles.com)
For Taylor:
Scott Robertson
RobertsonComm
(949) 212-7096 (scott(at)robertsoncomm.com)