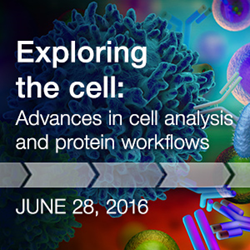 Yorba Linda, CA (PRWEB) May 24, 2016
Applications such as protein gel chemistries; flow cytometry; fluorescent cell imaging; high content imaging; multiplex immunoassays are widely used for cell and protein analysis. Keeping updated on practical considerations and the latest advances is important for labs to maximize their quality and efficiency in these areas.
LabRoots introduces a new complementary interactive virtual event to help researchers learn about the latest advances in cell analysis and protein workflows. The webinars and other educational content are provided by the scientists who developed the Molecular Probes™ Handbook and School of Fluorescence and the Pierce™ Protein Methods Handbook.
This event boasts a virtual laboratory where attendees can view the newest instrumentation developed to optimize data output and quality and simplify cell analysis and protein biology workflows. This novel venue for accessing rich educational content was designed with both new and experienced researchers in mind, and efficiently provides access to a variety of information that fosters learning about both traditional and innovative techniques.
During this free event attendees will gain unlimited access to valuable resources that will aid in research efforts, such as Webinars and how-to videos that may be viewed at any time; An assortment of technical resources available for free download; Online Q&A sessions with subject matter technical experts; and Networking and language translation capabilities to communicate virtually with others in the scientific community.
The event will take place on June 28, 2016, opening at 5:30am PT for the day.
Join us for this one-of-a kind virtual event with opportunities to interact with webinar speakers directly and attend the webinars either live or on demand: Click here to register.
About Thermo Fisher Scientific
Thermo Fisher Scientific Inc. is the world leader in serving science, with revenues of $17 billion and more than 50,000 employees in 50 countries. Our mission is to enable our customers to make the world healthier, cleaner and safer. We help our customers accelerate life sciences research, solve complex analytical challenges, improve patient diagnostics and increase laboratory productivity. Through our premier brands – Thermo Scientific, Applied Biosystems, Invitrogen, Fisher Scientific and Unity Lab Services – we offer an unmatched combination of innovative technologies, purchasing convenience and comprehensive support. For more information, please visit http://www.thermofisher.com
About LabRoots:
Founded in 2008, LabRoots emphasizes digital innovation in scientific collaboration and learning. LabRoots has become a primary source for current scientific news, webinars, virtual conferences and more. Join for free and become part of the largest scientific learning community in the world.