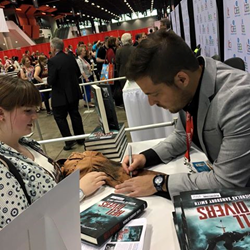 EARLY PRAISE FOR HELL DIVERS: "An action packed, page turner. You won't be able to put this book down until the last searing page. And then you'll want the next book." -Mike Shepherd, New York Times bestselling author of Kris Longknife
Ashland, OR (PRWEB) June 02, 2016
From the bestselling author who brought you the award-winning Extinction Cycle series, comes an all new vision of the apocalypse and the future of humanity. HELL DIVERS [Blackstone Publishing; July 19, 2016] is a thrilling post-apocalyptic work of speculative fiction and the first installment in The Hell Divers trilogy by Nicholas Sansbury Smith.
250 years into the future planet earth is uninhabitable. Bombs dropped during World War III poisoned our environment, sparking powerful electrical superstorms, acid snows, and deadly levels of radiation. What remains of humankind exists on two massive flying warships, The Hive and The Ares, which continuously circle the globe seeking a habitable home on the surface. The fate of the men, women, and children who live on these ships is far from secure.
Captain Ash, leader of The Hive, is well aware of the dangers that lurk both inside and outside of the warship she commands. Inside the ship, there is great unrest among the lower decks, where the dwellers forced to live there face starvation and rampant disease caused by their proximity to the radiation outside of the ship. So far, the militia has kept the lower deckers under control, but trouble and outrage is brewing. Most imperatively, Captain Ash must make sure the ship stays afloat and closely monitors the nuclear fuel cells which power the Hive. A constant shortage of this precious fuel has become the norm, and fuel cells can only be found in old supply houses on the surface of earth in the crumbling ruins that once were proud cities.
The Hell Divers are the brave men and women who accept the mission to retrieve these cells. They jump from the ship, plummeting thousands of feet, to secure fuel cells from the earth's surface and bring them safely back so the ship can survive for another stretch of time. Commander Xavier Rodriguez, known simply as X, is the most accomplished Hell Diver on the Hive. X has survived nearly 100 dives and has seen countless fellow divers meet their deaths during missions. X is a hardened man, devoted to his duty to preserve the existence of the Hive and its passengers that represent half of what is left of humanity. When X's best friend and fellow diver dies, X adopts his friend's orphaned ten year old son, Tin, a smart, eccentric, engineer-in-training, skeptical of X's parenting skills. X sets out to reform some of his less than role model-worthy vices and win Tin's trust.
The greatest trouble The Hive has yet faced occurs when The Ares, takes a perilous risk to dive for fuel in Hades, a city named thus due to its dangerously high radiation levels. The Hive learns of Ares' grave situation, and Captain Ash decides out of loyalty to The Hive's sister ship that they must rescue her.
Disaster strikes when The Hive is caught in a colossal electrical storm engulfing Hades and loses much of its power. It is now up to X and his newly recruited team of tough but novice Hell Divers to save what's left of humanity and recover fuel from a poisonous landscape riddled with winged, eyeless, leathery creatures known as Sirens, who are hard to kill and eager to feed.
ABOUT THE AUTHOR
NICHOLAS SANSBURY SMITH is the bestselling author of the Orbs and Extinction Cycle series. He worked for Iowa Homeland Security and Emergency Management in disaster mitigation before switching careers to focus on his one true passion--writing. A three-time Kindle All-Star, several of Smith's titles have reached the top 50 on the overall Kindle bestseller list and as high as #1 in the Audible store. Hell Divers, the first book in his new trilogy, will release in July 2016. When he isn't writing or daydreaming about the apocalypse, he's training for triathlons or traveling the world. He lives in Des Moines, Iowa, with his dog and a house full of books.
PUBLICATION INFORMATION
TITLE: HELL DIVERS
AUTHOR: NICHOLAS SANSBURY SMITH
RELEASE DATE: July 19, 2016
PAGES: 256
PRICE & ISBN
Hardcover Print Book: 978-1-5047-2584-2 $24.99
Library E-book: 978-1-5047-2585-9 $29.99
Trade E-book: 978-1-5047-2586-6 $6.99
Digital Retail: 978-1-5047-1037-4
Digital Rental: 978-1-5047-1036-7
Digital a la Carte: 978-1-5047-1038-1
Retail CD: 978-1-5047-1041-1 $34.95
Library CD: 978-1-5047-1039-8 $100.00
MP3 CD: 978-1-5047-1040-4 $29.95
Playaway: 978-1-5047-1395-5 $69.99
Digital Library: 978-1-5047-1035-0
Author's Website: http://www.nicholassansbury.com
Follow the Author on Twitter: @greatwaveink
Follow the Author on Facebook: http://www.facebook.com/Nicholas-Sansbury-Smith-124009881117534
Available for purchase online and at brick-and-mortar retailers.