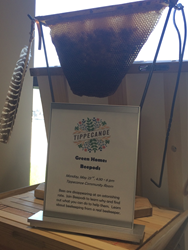 ...bees are disappearing at an astonishing rate...
(PRWEB) May 20, 2016
At this event, attendees will learn why bees are disappearing at an astonishing rate and what you can do to help them. There is a top bar style beehive provided by Beepods currently on display at the library that has been piquing the interest of library goers this week.
A recently survey by the Bee Informed Partnership, a collaborative organization of honeybee researchers, revealed that beekeepers in the U.S. lost 44 percent of their colonies in the past year due to disease, parasites, and pesticides. At the event on Monday, attendees will learn what they can do to support urban beekeeping efforts in the Greater Milwaukee Area in order to increase pollination and to save the bees.
Other topics in the library's 2016 Green Home Series include solar power, composting, climate change, winterizing your home, & recycling. In future presentations at the Tippecanoe Library, Beepods hopes to present on the topic of creating balms and salves using the natural byproducts (propolis and wax) from beehives.
The event page can be found here: http://www.mpl.org/services/events/?eid=59508
Beepods provides sustainable beekeeping systems with equipment, training and support, in order to save the bees and make the beekeepers' job easier. Through education on sustainable beekeeping practices, Beepods is shaping a healthier future for the honey bee.