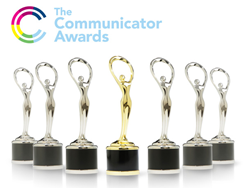 New York, NY (PRWEB) May 21, 2016
Out of the 6,000 entries received in the 22nd Annual Communicator Awards, one of the largest and most competitive awards program honoring creative excellence for communications professionals, Mediaplanet scored victories in six major categories, notably in Cause Marketing, Infographic Design, Newspaper Article and Integrated Campaign: Business to Consumer.
The honors recognize quality content in the form of both Mediaplanet's broader campaigns and specific articles within. The accolades included:
1. Award of Excellence in Cause Marketing for the "Saving Our Wildlife" campaign
2. Award of Distinction for the "Sexual Wellness" campaign
3. Award of Excellence for the "Careers in Digital Tech" infographic
4. Award of Excellence for the "Eating for Life" infographic
5. Award of Excellence for the "Gift of Life: Transplants" article "Walking the Thin Line Between Tragedy and Joy"
6. Award of Distinction for "United for Diabetes" campaign article, "A Wedding with Diabetes: Have Your Cake and Eat It Too."
The Communicator Awards are judged and overseen by the Academy of Interactive and Visual Arts (AIVA), a 600+ member organization of leading professionals from various disciplines of the visual arts dedicated to embracing progress and the evolving nature of traditional and interactive media.
"We are thrilled to receive such positive recognition for our content by the Academy of Interactive and Visual Arts," says Luciana Olson, Mediaplanet's U.S Managing Director. "We are committed to creating relevant, quality content that resonates with our partners' initiatives and inspires our readers to take action and it's fantastic to be able to celebrate our hard work with the content marketing industry."
About Mediaplanet: 
Mediaplanet is the leading independent publisher of content marketing campaigns covering a variety of topics and industries such as Health, Education, Lifestyle, Business and Technology, and Corporate Social Responsibility. We turn consumer interest into action by providing readers with motivational editorial, pairing it with relevant advertisers and distributing it within top newspapers and online platforms around the world. Please visit http://www.mediaplanet.com for more on who we are and what we do.
About The Communicator Awards:
The Communicator Awards is the leading international awards program honoring creative excellence for communication professionals. Founded by communication professionals over a decade ago, The Communicator Awards is an annual competition honoring the best in advertising, corporate communications, public relations and identity work for print, video, interactive and audio. This year's Communicator Awards received thousands of entries from companies and agencies of all sizes, making it one of the largest awards of its kind in the world.