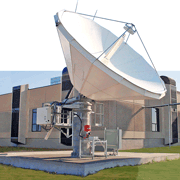 STN's growth depends on solid management and good technology partners. Our investment was based on our previous experience with ASC Signal in multi-band technology.
Plano, TX, USA (PRWEB) May 25, 2016
The ASC Signal Division of Communications & Power Industries LLC (CPI) and one of Europe's fastest-growing teleports, Satellite Telecommunications Network (STN), have completed the installation of the teleport's first uplink- and downlink-capable Ka-band antenna system. Among other technology innovations, the 5.6 meter dish is equipped with CPI ASC Signal Division's patented sub-reflector tracking technology, designed to enable more precise tracking precision than conventional Azimuth/Elevation mount motorization systems. The system has been operational at the STN teleport in Dob, Slovenia since the close of 2015. The antenna allows STN to serve a major customer in Asia in 2016 by providing satellite coverage and broadband services into Sub-Saharan Africa, where media consumption and e-commerce activities continue to grow at exceptional rates.
As one of the fastest-growing teleport operator in the world by revenue, STN, which was recently named Independent Teleport Operator of the Year by the World Teleport Association, has invested continuously in the upgrade of its Slovenian teleport. The teleport has over 85 antennas, of which over 14% are from CPI ASC Signal, and has provided service to the teleport nearly since its inception. STN serves customers worldwide, growing from a largely regional operator in 2004 into one of the largest independent teleport operator in the world today.
The CPI ASC Signal Division 5.6 meter earth station antenna features a computer-optimized dual reflector Gregorian optics system and employed close-tolerance manufacturing techniques. The antenna is also compatible with DBS- and Ku-band operation by changing the feed and cross-axis kits.
According to STN, the antenna has made significant gains through its new tracking system, which is integrated into the multi-band antenna. The sub-reflector tracking (SRT) system is controlled with a Next Generation Controller (NGC) using a highly accurate, built-in tracking receiver. According to CPI ASC Signal Division, this allows STN to track to within 1/1000th of a degree accuracy while compensating for thermal degradation of the main reflector, an important element in keeping the link as solid as possible and reducing the need for excess bandwidth.
"As evident by its global rankings, STN runs a truly state-of-the-art teleport. This most recent award illustrates the continued confidence that STN's management has in CPI ASC Signal Division, and we are pleased that they have once again chosen our products and engineering. STN's continued growth – both in size and in the complexity of services it offers– requires a high-performance system like our 5.6 meter dish," said Keith Buckley, president of CPI ASC Signal Division.
"STN's growth depends on solid management, technical excellence and good technology partners who are innovative and sensitive to the needs of teleport operators who are on the cutting-edge of service," said STN's managing director, Tomas Lovsin. "Our investment in the 5.6-meter Ka-band system was based on our previous experience with ASC Signal and its leadership in the multi-band technology."
About CPI ASC Signal Division
ASC Signal is a multinational manufacturer of high-performance, highly-engineered satellite Earth station, radar and HF antenna systems. In September 2015, ASC Signal was acquired by Communications & Power Industries LLC, becoming CPI ASC Signal Division. Its customers include international broadcasters and Fortune 500 companies, as well as military and government organizations. ASC Signal leads through design innovation that capitalizes on a +40-year heritage of engineering creativity and excellence. The CPI ASC Signal Division line of high-performance antennas – from its compact 2.4-meter ESA and extensive line of HF products up to its largest 14-meter ATC earth stations – cover all widely-used commercial and military frequency bands from HF to V-bands. ASC Signal is a member of the World Teleport Association and the Society of Satellite Professionals International. http://www.cpii.com/ascsignal
About STN
STN delivers broadcasters content to audiences using world-class technology and expertise. STN transmits over 650 TV channels, delivering global service via satellite and fibre from its state-of-the-art teleport facilities in Dob, Slovenia, in the EU. STN provides SD/HD/UHD video and audio broadcast and IP point-to-point data services over satellite that offer extensive coverage in Europe, the MENA region, Asia, Africa, Australia, North America and Latin America. For its video customers, STN provides playout, encryption, and channel localization services, enabling a range of customers, from startup channels to global media leaders to rapidly and efficiently deploy quality services. (http://www.stn.eu/),
About Communications & Power Industries LLC
Communications & Power Industries LLC (CPI), headquartered in Palo Alto, California, is a subsidiary of CPI International Holding Corp. and CPI International, Inc. CPI develops, manufactures and globally distributes components and subsystems used in the generation, amplification, transmission and reception of microwave signals for a wide variety of systems including radar, electronic warfare and communications (satellite and point-to-point) systems for military and commercial applications, specialty products for medical diagnostic imaging and the treatment of cancer, as well as microwave and RF energy generating products for various industrial and scientific pursuits. http://www.cpii.com
###
Certain statements included above constitute "forward-looking statements" within the meaning of Section 27A of the Securities Act of 1933, as amended and Section 21E of the Securities Exchange Act of 1934, as amended. Forward-looking statements provide our current expectations, beliefs or forecasts of future events. These statements are not guarantees of future performance. Forward-looking statements are subject to known and unknown risks and uncertainties, which could cause actual events or results to differ materially from the results projected, expected or implied by these forward-looking statements. These factors include, but are not limited to, competition in our end markets; our significant amount of debt; changes or reductions in the U.S. defense budget; currency fluctuations; goodwill impairment considerations; customer cancellations of sales contracts; U.S. Government contracts; export restrictions and other laws and regulations; international laws; changes in technology; the impact of unexpected costs; the impact of a general slowdown in the global economy; the impact of environmental laws and regulations; inability to obtain raw materials and components; and the impact of unexpected results of, or issues in connection with, dispositions and acquisitions. These and other risks are described in more detail in our periodic filings with the Securities and Exchange Commission. All future written and oral forward-looking statements attributable to us or any person acting on our behalf are expressly qualified in their entirety by the cautionary statements contained or referred to in this section. New risks and uncertainties arise from time to time, and it is impossible for us to predict these events or how they may affect us. We undertake no duty or obligation to (i) publicly revise any forward-looking statement to reflect circumstances or events occurring after the date hereof, (ii) to reflect the occurrence of unanticipated events or changes in our expectations or (iii) to publicly correct or update any forward-looking statement if CPI becomes aware that such statement is not likely to be achieved.
Contact:
Susan Wojs, susan.wojs(at)ascsignal(dot)com, +1 214-291-7627