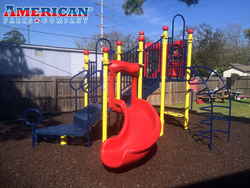 Now, the charity can add play to their list of services.
Beaumont, TX (PRWEB) May 22, 2016
New playground equipment from American Parks Company has been installed and is ready for playtime at the Catholic Charities of Southeast Texas in Beaumont, Texas.
Catholic Charities of Southeast Texas is considered the social service branch of the Diocese of Beaumont. It became a tax exempt 501(c)(3) corporation in 2007, but they have been providing social services to the area since 1989. The corporation serves the Southeast Texas counties of Jefferson, Orange, Hardin, Chambers, Jasper, Liberty, Newton, Polk, and Tyler. Since it's creation, Catholic Charities has helped resettle immigrants, operated a residential center for AIDS victims, operated a center for the temporary care of abused children, and provided disaster relief in the wake of Hurricanes Ike and Katrina. Currently, the corporation operates seven programs based on recognized social needs in these counties including counseling, disaster relief, immigration services, and social ministry. Catholic Charities of Southeast Texas also runs a soup kitchen that feeds meals to the needy 365 days a year, and Elijah's Place, where trained volunteers and facilitators provide ongoing grief counseling to children ages 5-18.
Now, the charity can add play to their list of services. A Jumping Jack Bundled Playground was installed by American Parks Company at the Service's building, locoated off of Eastex Freeway. The Bundled Playground is a professional turnkey solution for new and less-experienced purchasers because it includes the play structure, certified safety surfacing, borders, ADA-approved ramp, installation, and freight.The Jumping Jack play structure has a child capacity of 25 and is suitable for ages 2-12. It's equipped with plenty of activities that challenge and excite, too. There are two ways to scale to the top platforms. The Vertical Access Ladder and Loop Arch Climber provide a fun lower body workout. Two Curved Speedway Slides make for a fun ride back down to the ground. In addition, a Moon Phase Panel gives an outdoor lesson on lunar phases.
The professional American Playground Company installation crew finished this primary-colored playground off with 13 tons of brown rubber mulch for safety surfacing. This type of surfacing recycles tires that would have otherwise gone to a landfill, so it helps protect kids and the environment. Children visiting the charity center will now be able to find peace and joy through play in the great outdoors.
About American Parks Company
Headquartered in McKinney, Texas (a suburb of Dallas) American Parks Company supplies and installs commercial playground equipment primarily to schools, churches, daycare facilities, apartment communities, municipalities, and homeowner associations. For more than 25 years American Parks Company has consistently provided high-quality play structures and site furnishings at extremely affordable prices.
American Parks Company is an industry leader in both the national sales and installation of commercial park and playground equipment. For general information on American Parks Company, please call 1-800-381-4491 or visit https://www.AmericanParksCompany.com.
For media inquiries contact Marc Parker – Vice President of Marketing sm(at)americanparkscompany(dot)com.
Corporate Address: 225 E. Virginia Street, Suite 1, McKinney, Texas 75069.