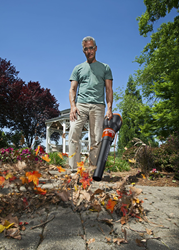 "The WORX 12 Amp TURBINE600 Blower generates 35 percent more air volume than competing units at a comparable price point," said Brandon Martin, WORX Product Manager. "
Charlotte, N.C. (PRWEB) May 24, 2016
The new WORX® 12 Amp TURBINE600 Blower develops a maximum air volume of 600 cubic-feet-per-minute (cfm), making it the most powerful blower in its class. The 12 amp TURBINE blower is 7½ times more powerful than the popular WORX AIR 20-volt model.
Just how fast can it clear a typical quarter-acre residential lot? WORX tested it against three other top electric blowers and a popular gas model. The TURBINE600 Blower finished the job in 61 minutes, while the other manufacturers' blowers fell behind at 79, 91,113 and 136 minutes.
Blowers are not just for fall. When using a mulching lawnmower, inevitably grass clippings may land on the sidewalk or driveway. Rather than taking out the broom and dust pan, go to work with the blower. It saves time and energy, and it does a more efficient job. Cleaning out the garage? The TURBINE600 Blower can manage the job in minutes. Front porch, deck and other entry ways into the house are also culprits for tracking in dirt, so hit these areas with the blower too.
"The WORX 12 Amp TURBINE600 Blower generates 35 percent more air volume than competing units at a comparable price point," said Brandon Martin, WORX Product Manager. "The versatile yard machine moves heavy accumulations of leaves, even wet ones, with ease. The same is true for grass clippings, dirt and wet yard debris that sticks to lawns, driveways, sidewalks, patios and decks."
The lightweight, corded TURBINE blower has a 12-amp, axial fan motor that pulls air directly into the fan and immediately forces it out through the large diameter blower tube. The tube contains a hyper-stream nozzle that concentrates and intensifies the air stream.
Variable speed control provides air velocities ranging from 60 to 110 mph. A light breeze is ideal for working in flower beds, garages or screened porches and other sensitive areas. Or higher speed settings can be selected to quickly blast debris out of the way.
Constructed of high-impact nylon composite, the 6.4-lb. blower is ergonomically designed for single-handed operation. It features a soft-grip comfort handle to help reduce fatigue, especially during extended use periods. The blower's retainer clip secures the extension cord to prevent disconnection. The blower accommodates outdoor-rated extension cords up to 100 ft.
The WORX 12 Amp TURBINE600 Blower (WG520, $59.99) is covered by the WORX 3 year warranty. It's available at worx.com and other online retailers including Home Depot and Amazon.
# # #
To reach out to WORX social media links visit: Facebook: https://www.facebook.com/worxus?ref=hl; Twitter: https://twitter.com/WORXTools;
Pinterest: http://pinterest.com/worxtools and Instagram: @WORXTools
# # #