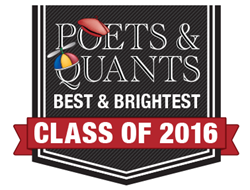 "This incredible group of MBA graduates defies every stereotype about business school students," said John A. Byrne, editor-in-chief of Poets&Quants.
Oakland, CA (PRWEB) May 22, 2016
Poets&Quants, the must-read website for global business education, has released its second annual Best & Brightest MBA graduates from the Class of 2016. Based on nominations for 197 students from 57 top business schools worldwide, the Best & Brightest celebrates MBAs who personify the best of their programs.
This year's selections were a diverse group that included a former White House staffer who battled cybercrime; an alternative rock singer who became an investment banker; and a physician whose research served as the basis for HIV treatment guidelines for the World Health Organization. They were the go-to leaders of their classes who volunteered for overlooked and thankless roles; spent countless hours tutoring their peers on intricate finance concepts; and stepped forward when action was needed. Through their actions, these 100 MBA graduates embodied how business could be used as an instrument to disrupt norms, add value, serve needs, and achieve social good. And their inclusion among the Best & Brightest is a testament to their schools -- and the world class MBA talent that they attract.
Among the 100 student profiles featured in the 2016 Best & Brightest, you'll find University of Virginia's Jean-Marie Menga, who used his Project Einstein platform to donate educational supplies to his native Cameroon – including a 66-seat school bus. INSEAD's Tan Wenyou cut prison recidivism in his native Singapore by training ex-offenders to become entrepreneurs. At the London Business School, Tarana Shivdasani founded LBS For London, which generated nearly 1,000 volunteer hours from classmates and staffers who produced new playgrounds and gardens around London.
And their personal stories are packed with surprises too. Oxford's Halla Koppel, an actress ticketed for Goldman Sachs, has scaled four of the world's seven highest mountains (and gave birth to her first child during her first week in business school). Cornell's Ian Folau is a professional Polynesian dancer – and earned a Bronze Star winner as an intelligence officer in Afghanistan. And Dartmouth's Joseph Mpumelelo Ngwenya won two MLS Cups as a professional soccer player.
To participate in Best & Brightest, selected schools could submit up to four nominations for students who exemplified the best of their programs – with Poets & Quants asking administrators to take into account "academic prowess, extracurricular involvement, personal excellence, or a striking personal narrative." From there, P&Q staff evaluated each nomination, paying careful attention to areas like demonstrated leadership, tangible achievements, and insightfulness.
Demographically, 57 of the 100 graduates among the Best and Brightest were women –a reverse of business schools traditionally, where roughly a third are women. Another third were born outside the United States. McKinsey and Deloitte each hired six members of the Best & Brightest,' with Goldman Sachs and Bain & Company adding four apiece.
"This incredible group of MBA graduates defies every stereotype about business school students," said John A. Byrne, editor-in-chief of Poets&Quants and the former executive editor of Businessweek magazine. "They are smart, ambitious people with heart, reflective of the rich and varied backgrounds of young people who see business as a way to change society for the better. What's more, these 100 exceptional graduates are role models for future MBAs on what makes a successful experience."
The Best & Brightest MBAs is just one series where Poets & Quants recognizes top students. Previously, it published The Best & Brightest Business Majors – Class of 2016 to recognize the top undergraduate business majors. Its sister site, Tipping The Scales, also featured The Top Law Students From The Class of 2016 in April. In June, Poets&Quants will release its Best & Brightest list for executive MBAs.