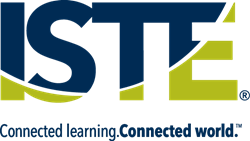 WASHINGTON, D.C. (PRWEB) May 23, 2016
Educators around the country will learn an exciting strategy for igniting their students' enthusiasm for learning with a new book from the International Society for Technology in Education (ISTE®),Reward Learning With Badges: Spark Student Achievement. Not just for video games or Scouting, badges–both physical and digital–provide evidence of achievement, allowing students to create their own learning paths and develop a passion for learning.
In this engaging and practical book, author Brad Flickinger details the badge system he created to motivate his elementary students and reward them for mastering important digital age skills. Teachers of all subjects and grade levels can learn from Flickinger's example and follow his step-by-step guide for creating a robust badging program that will engage students and allow them to take control of their learning. The book provides a roadmap for developing a badging initiative, from brainstorming and developing ideas for badges to designing great challenges for earning them, and finally bringing it all together with a real-world culminating event. Complete with tips on implementation and technology, examples, and frequently asked questions, this book will get educators thinking differently about student motivation and achievement.
Flickinger is a self-proclaimed geek and maker who puts his affinity for technology to work as a technology director and technology teacher. His students have produced the longest running and most popular student podcast on iTunes and have created movies with more than 200,000 online views. In 2012, he received the Leadership Award from Edtech Digest for his blog SchoolTechnology.org. He currently lives in Panama City, Panama, and spends his summers traveling as an ed tech speaker at conferences, attending district meetings and consulting to help schools and districts with technology initiatives.
Reward Learning With Badges: Spark Student Achievement
By Brad Flickinger
ISBN: 9781564843821
ISTE Member Price: $17.96 Nonmember Price: $19.95
About ISTE
The International Society for Technology in Education (ISTE®) is the premier nonprofit organization serving educators and education leaders committed to empowering connected learners in a connected world. ISTE serves more than 100,000 education stakeholders throughout the world.
Innovative offerings include the ISTE Conference & Expo – the world's most comprehensive ed tech event – as well as the widely adopted ISTE Standards for learning, teaching and leading in the digital age. The organization's robust suite of professional learning resources features online courses, consulting services for schools and districts, books, and peer-reviewed journals and publications. For more information, visit iste.org. Connect with ISTE via Twitter, Facebook and LinkedIn.