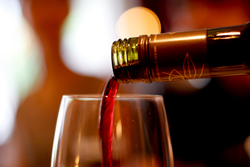 The use of polyphenols might represent a promising strategy to ...prevent malignant mesothelioma.
Raleigh, NC (PRWEB) May 22, 2016
Doctors in Rome say micronutrients found in certain foods have the potential to be powerful weapons in combating the asbestos cancer, malignant mesothelioma. Surviving Mesothelioma has just posted an article on the new research. Click here to read it now.
Researchers in the University of Rome's Department of Clinical Sciences and Translational Medicine evaluated more than 150 studies on polyphenols in cancer for their report recently published in the journal Nutrients.
"The use of polyphenols might represent a promising strategy to contrast the development and/or to prevent malignant mesothelioma," writes lead author Monica Benvenuto, PhD, a molecular biologist.
Among the polyphenols examined in the new mesothelioma study were resveratrol found in red wine, quercetin found in blueberries and leafy greens, EGCG found in green tea, and curcumin found in the spice turmeric.
"Nutritionists have long known the power of these polyphenols to help ward off disease," says Alex Strauss, Managing Editor of Surviving Mesothelioma. "It is exciting to imagine the potential these natural and plentiful substances may have to help the body battle this intractable cancer."
For more on the polyphenol study, including why researchers say simply eating these substances is probably not enough to ward off mesothelioma, see Micronutrients in Tea and Wine May Fight Mesothelioma, now available on the Surviving Mesothelioma website.
For nearly ten years, Surviving Mesothelioma has brought readers the most important and ground-breaking news on the causes, diagnosis and treatment of mesothelioma. All Surviving Mesothelioma news is gathered and reported directly from the peer-reviewed medical literature. Written for patients and their loved ones, Surviving Mesothelioma news helps families make more informed decisions.
Benvenuto, Monica, et al, "The Potential Protective Effects of Polyphenols in Asbestos-Mediated Inflammation and Carcinogenesis of Mesothelium", May 9, 2016, Nutrients, https://www.ncbi.nlm.nih.gov/pubmed/27171110