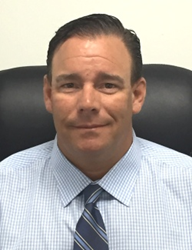 "Blake's passion for sports, together with his extensive industry experience and proven track record of building customer relationships, make him a perfect fit for Formetco Sports" - Todd Heller, Formetco VP of Digital Products
Atlanta, GA (PRWEB) May 24, 2016
Formetco Sports, a leading manufacturer of custom LED sports and entertainment video screens, is pleased to announce the addition of Blake Bearden as Sports and Video Systems Sales Manager. Bearden will be responsible for leading sales efforts and accelerating Formetco Sports' and LED Video Screen growth nationwide.
Bearden brings nearly 20 years of digital sales experience to Formetco Sports, working with product manufacturers as well as professional, collegiate and high school athletic organizations. He has held Regional and National Sales Manager positions for several major electronics corporations, where he developed and implemented digital projects for major league sports facilities, minor league baseball stadiums and collegiate sports venues.
"Blake's passion for sports, together with his extensive industry experience and proven track record of building customer relationships, make him a perfect fit for Formetco Sports. We are happy to welcome him to our team," says Todd Heller, Vice President Digital Products.
About Formetco Sports
Atlanta-based Formetco Sports specializes in large LED video screens for entertainment and multi-sports scoring applications. A division of Formetco, Inc., the world's largest full-service outdoor advertising supplier, Formetco Sports builds a custom LED video screen from the design concept to construction and installation. All video screens are designed for reliability and efficiency and ongoing support is provided.
For more information about Formetco Sports, please call 1-866-273-2848 or visit Formetco.com/Sports