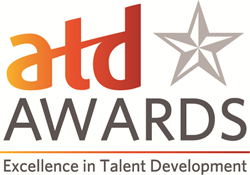 Denver, CO (PRWEB) May 24, 2016
During its 2016 International Conference & Exposition held in Denver, CO, the Association for Talent Development (ATD), formerly ASTD, recognized organizations and individuals for their excellence and contributions across the talent development field. The event was held at the Denver Performing Arts Complex on May 23.
"The ATD Awards Ceremony is an event dedicated to recognizing excellence," said Tony Bingham, ATD President and CEO. "Individuals are recognized for their dedication to and passion for developing talent. Winning organizations demonstrate how learning can increase the performance and success of organizations worldwide."
Individual honorees included:

Liz Wiseman – Champion of Talent Development Award
Ruth Colvin Clark – Distinguished Contribution Award
James Vesper – ATD Dissertation Award.
On the organization side, ATD recognized Tencent Holdings Limited with the association's Innovation in Talent Development Award. Rotary International received the CPLP Employer award.
ATD also honored the 2015 Excellence in Practice Award winners, recognized for results achieved through the use of practices and solutions from the entire scope of workplace learning and talent development.
Thirty-one awards and 32 citations were presented in 10 categories: career development, coaching and mentoring, diversity and inclusion, facilitating organizational change, integrated talent management, learning technologies, managing the learning function, organizational learning and development, performance improvement, and sales enablement. Awards are presented to organizations with proven practices that have delivered measurable and sustained results. Citations are awarded for those practices that show significant promise.
The organizations selected to receive Excellence in Practice Awards are:
Belle Worldwide Limited (a member of Belle International), Shenzhen, China
Cardinal Health, Dublin, Ohio
Chailease Finance Co., Ltd., Taipei, Taiwan
Dubai Police Department, Dubai, United Arab Emirates
Eczacıbaşı Holding, Istanbul, Turkey
Emirates NBD, Dubai, United Arab Emirates
ENN Group, Langfang City, China
Hewlett-Packard, Palo Alto, California
IBM, Armonk, New York
ITU AbsorbTech, New Berlin, Wisconsin
Johnsonville Sausage, LLC, Sheboygan Falls, Wisconsin
Minor Food Group PLC, Bangkok, Thailand
MTR Corporation Limited, Hong Kong
SAP SE, Walldorf, Germany
State Grid Corporation of China, Beijing, China
Tanfeeth, Dubai, United Arab Emirates
Tata Consultancy Services, Mumbai, India
Teknosa İç ve Dış Ticaret A.Ş., Istanbul, Turkey
Tencent Holdings Limited, Shenzhen, China
Turk Ekonomi Bankasi (TEB), Istanbul, Turkey
Türk Telekom, Altındağ, Turkey
Vestel Ticaret A.Ş. Müşteri Hizmetleri, Yunusemre, Turkey
Western Union, Englewood, Colorado
Zurich Insurance Company Ltd., Zurich, Switzerland
A complete list of Excellence in Practice award and citation winners can be found on the ATD Website.
About ATD
The Association for Talent Development (ATD), formerly ASTD, is the world's largest association dedicated to those who develop talent in organizations. These professionals help others achieve their full potential by improving their knowledge, skills, and abilities.
ATD's members come from more than 120 countries and work in public and private organizations in every industry sector. ATD supports the work of professionals locally in more than 125 chapters, international strategic partners, and global member networks.