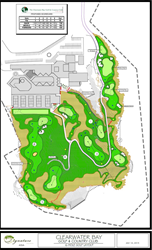 That day alone sold me on synthetic for this specific project, and since picking SWG Construction as the synthetic contractor, their commitment and help has been nothing but first class.
Hong Kong (PRWEB) May 23, 2016
Southwest Greens International has announced a major construction project on the shores of Hong Kong.
Located in the stunning backdrop of Clearwater Bay, this six-hole compact golf course at the Clearwater Bay Golf & Country Club will feature Southwest Greens' proprietary performance synthetic turf systems, including its tee, fairway, rough, bunker, and green systems.
The construction will take place on an existing nine-hole par 3 course on the Club's grounds, with the conversion featuring many exciting upgrades.
"Continuing from our recent success in Hong Kong at the Hong Kong Golf & Tennis Academy, this project is an exciting addition to our product portfolio," said Kevin Holinaty, President of Southwest Greens Construction. "Not only does it feature our industry leading PRO System on the greens of the course, but we are excited that the client has chosen to also include our performance fairway, rough, and bunker systems. We are excited to be part of the construction of this golf facility at such a prestigous private golf club."
Southwest Greens Contruction has the pedigree for such a project, having built several golf courses, academies, and driving range facilities around the world.
"The Industry has caught up to the reality that when synthetic turf systems are employed in a golf course setting, they not only function but, in fact, they perform at the highest levels" Holinaty explained. "Golfers are the most demanding of athletes – they will only be satisfied with synthetic surfaces if the surfaces react in a way that they are accustomed to feeling and experiencing while playing on top quality natural surfaces. We are pleased that Clearwater Bay has put their faith in our product and installation capacity."
With the facility scheduled to open at the end of 2016, the client had several goals in mind; reduce maintenance, reduce water usage, provide a consistent year-round playing surface, and enhance the beauty of the existing site.
"I was first introduced to Southwest Greens Construction when I had an opportunity to see their product and craftsmanship first-hand during the installation at Hong Kong Golf and Tennis Academy," said Darry Koster, Superintendent of CWB Golf & Country Club. "From that visit forward I was confident the synthetic solution over natural turf was the best fix for our long-term goals."
Holinaty sees the industry continuing to evolve with more acceptance of synthetic turf system at these types of facilities.
"This project demonstrates that high-caliber private golf clubs can benefit from a top-quality synthetic turf product," said Holinaty. "Choosing our turf systems over more conventional natural solutions means that Clearwater Bay can focus the majority of its maintenance personnel and budgets on their championship course, knowing that this compact course can operate at a high level at a fraction of the maintenance cost of years past."
"Having decided to change our executive nine-hole golf course into a more user-friendly six-hole academy/teaching facility my superintendent and I had to choose between natural or synthetic," said Peter Downie, General Manager of the club. "To tell you the truth, the choice had never even crossed my mind until I saw the facility that SWG Construction had just embarked on with Nicklaus Design at a nearby property. The initial impression when you arrive at the teeing ground is very impressive, but what surprised me were the results and feedback I got when hitting full 8 irons, not only from the tee surface, but also into the greens. The ball was reacting and spinning on the greens surface like I experience on a high quality natural surface. That day alone sold me on synthetic for this specific project, and since picking SWG Construction as the synthetic contractor, their commitment and help has been nothing but first class."
About Southwest Greens Construction and Southwest Greens International/Shaw Industries
Headquartered in The Netherlands, Southwest Greens Construction is the official golf course construction arm for Southwest Greens International. Southwest Greens Construction is responsible for all major golf course construction projects for Southwest Greens International, and as such has the most experienced installation and construction team in the industry.
Southwest Greens International is a division of Shaw Industries. With a multi-million dollar network of 75+ franchise operations worldwide, the Southwest Greens organization is regarded as the undisputed Global Leader in the sales, design, construction and maintenance of synthetic golf solutions. The Southwest Greens product is the preferred putting surface for more than 40 professional golfers on the PGA and LPGA Tours including the likes of Jack Nicklaus, Annika Sorenstam, Jim Furyk and Justin Rose.
A wholly-owned subsidiary of Berkshire Hathaway Inc., Shaw Industries is a full flooring provider to the residential and commercial markets. Shaw supplies carpet, hardwood, laminate, resilient, and tile/ stone flooring products, as well as synthetic turf. Shaw Sports Turf is one of the leading synthetic turf companies in North America and has represented quality and innovation for more than two decades. Shaw's Turf division consists of Shaw Sports Turf, Southwest Greens International, Shaw Grass and an exclusive partnership with Watershed Geo.