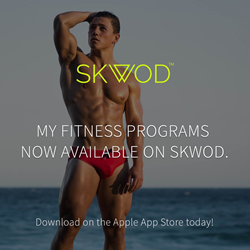 SKWOD frees trainers from the risks and costs associated with technology development and allows them to better serve their customers.
Brisbane, Queensland (PRWEB) May 24, 2016
Fitness is big business, as the industry is worth over USD $85 bn globally. The fitness DVD market is worth $3 bn and personal training worth $10 bn in the USA alone. Platforms like Instagram are disrupting and challenging traditional sources of health and fitness inspiration, empowering consumers to get fit in their living rooms, parks and anywhere they have a wifi connection. Instagram currently has over 400 million monthly active users, and growth is showing no signs of slowing down. This social network for sharing photos has become the place for the newly termed "fitspo" movement (short for fitness inspiration), and where users have already tagged over 130 million photos with the hashtag "#fitness" (#kimkardashian has been tagged only 3.4 million times to give some perspective).
Instagram, however, is failing to serve the needs of the burgeoning demand for consumable and interactive fitness content on its platform. Unfortunately, for those personal trainers making a name for themselves on the platform and looking to capitalise on their popularity, this is where Instagram lets them down. Instagram doesn't provide the business technology for trainers to sell their content (such as workout guides and meal plans) directly to their fans. Entrepreneurial health and fitness trainers are forced to take matters into their own hands, spending a lot of time and money to have their own mobile app developed in order to stay relevant to their mobile savvy fan base and make income at the same time. This strategy is high risk for the majority of trainers out there, who often have no idea what it takes to develop an app, market it, and then deal with the constant changes in technology.
With the Worldwide Survey of Fitness Trends 2016 reporting body weight exercise, personal training, and wearable technology as some of the top trends in fitness, it was only a matter of time before a new platform would evolve to cater to the demand of mobile savvy fitness loving consumers and their eagerness to buy into what the popular fitness trainers are wanting to sell.
SKWOD helps Instagram fitness stars skip posing with skinny teas and start selling what fans really want from them.
SKWOD is not just another fitness app, as this innovative platform offers a mobile marketplace for popular fitness trainers to sell access to their workouts and meal plans, as well as engage in instant messaging with their global customers all via the mobile app. SKWOD handles the technology by allowing trainers to simply hand over their workout programs to the team at SKWOD who optimise the content for a quality mobile user experience within the app. SKWOD frees trainers from the risks and costs associated with technology development and allows them to better serve their customers.
The fitness trend is hot, active wear is not going away, and the use of smartphones is only increasing. If a trainer wants to keep relevant they need to embrace a technology business that will empower them. SKWOD is the platform doing just that.
Team:
SKWOD has recently completed the Muru-D/ River City Labs Accelerator program, which provided some early funds and mentoring to the five successful teams. SKWOD consists of three co-founders who have diverse skillsets ideal for a startup - Nathan Challen (Technology), Britney Marsden (Design), and Jacob Turner (Business/Accounting). The team were in Silicon Valley earlier this year making important connections for a planned return later this year.
Jacob Turner (CEO/Co-Founder)
e: jacob(at)skwodapp(dot)com
Apple App Store: http://apple.co/1OQMEx0
Website URL: http://www.skwodapp.com
Instagram: @skwodapp
Co-founders' LinkedIn Profiles:
Nathan Challen: http://linkd.in/1eMZIBp
Britney Marsden: http://bit.ly/1XqPVtP
Jacob Turner: http://linkd.in/1olTSNU