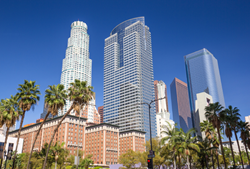 "This new office is a huge advancement for the firm and will leave no doubt that we are going to be a major long-term player."
Los Angeles, CA (PRWEB) May 23, 2016
Layfield & Barrett has opened its new office in Downtown Los Angeles today. Located at the U.S. Bank Tower, one of the most recognizable buildings in the area, the office hosts 27 employees in total and 15 personal injury attorneys. The new office space occupies over 12,000 square feet, and includes 3 conference rooms, 14 exterior offices and a main conference room that seats 30, along with state-of-the-art audio and video in each conference room. Dubbed as the "law office of the future" Layfield & Barrett's showcase law office will feature dedicated fiber optic lines for best in class internet speeds, video conferencing using the Highfive platform, virtualized servers using VMware and full automation for multimedia using the Control4 platform.
The U.S. Bank Tower was built in 1989 and spans 72 floors. The building has been installed with a Skyslide, an outdoor glass slide, positioned at 1,000 feet above Downtown Los Angeles. Additionally, in June 2016, the QUE Skyspace LA, California's tallest open-air observatory deck, will be opened on the 69th and 70th floors of the building providing visitors with a 360-degree view of the city.
This move is a clear indicator of Layfield & Barrett's expansion and success in recent years. Speaking on the launch of the new office, Philip Layfield, Managing Partner of Layfield & Barrett says, "This new office is a huge advancement for the firm and will leave no doubt that we are going to be a major long-term player."
The firm's office at El Segundo has been officially closed, and the new office is open for business. The Downtown LA office is situated at the U.S. Bank Tower, 633 West 5th Street, Suite 3300, Los Angeles, CA 90071, operates Monday to Friday from 8 a.m. to 6 p.m. and can be contacted at 323-486-3500.
About Layfield & Barrett:
Layfield & Barrett (L&B) is one of America's leading plaintiff-only law firms. This award-winning firm's personal injury lawyers have decades of experience handling complex lawsuits, and have recovered multimillion-dollar settlements for their clients. With offices nationwide including Orange County, Park City, San Diego, San Francisco, Scottsdale and Washington DC, and personal injury attorneys dedicated solely to plaintiff litigation, L&B handles catastrophic personal injury cases, truck accidents, mass torts, wrongful death suits, medical malpractice and construction defect claims.