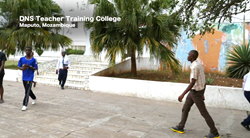 Elkridge, Maryland (PRWEB) May 23, 2016
Planet Aid is proud to announce the release of a new video featuring the voices of current and former students of the DNS Teacher Training program in Maputo, Mozambique. This transformative program has been implemented to address and overcome some of the unique challenges inherent to Mozambique communities.
To provide primary education to all children by the year 2030, 28.5 million teachers must be recruited and trained. Most teachers placed in developing communities will face enormous challenges, such as high student-to-teacher ratios, few resources, and student populations that lag behind literacy benchmarks. Teachers trained through DNS are prepared to handle these challenges as they complete the curriculum that emphasizes a self-reliant, holistic approach to pedagogy. Graduates go on to become agents of change in both the classroom and community.
"I've received three diplomas of honor recognizing that I am one of the best teachers at the school," says graduate Joaquim Mandlate. "But all of this I learned thanks to DNS."
The voices featured in the video are just a sampling of the many teachers who have been transformed by the DNS system. Since 1993, more than 15,000 teachers have graduated from the 11 DNS Teacher Training Colleges in Mozambique. The institutions are run by Planet Aid's sister organization ADPP Mozambique, which has managed a multitude of cross-cutting development projects in the country for over 30 years.
About Planet Aid
Planet Aid is a U.S. 501 (c)(3) nonprofit and is registered with USAID as a private voluntary organization. Accredited by the Better Business Bureau's Wise Giving Alliance, Planet Aid collects and recycles used clothing and shoes as part of its environmental mission. The net proceeds from its 21-state recycling operation help to support projects aimed at eliminating poverty. Since its inception in 1997, Planet Aid has provided more than $100 million to support projects on three continents. Planet Aid supports programs in education, teacher training, nutrition and agricultural and economic development.