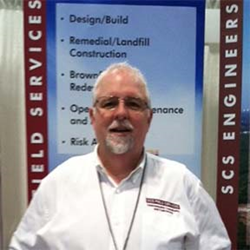 Long Beach, CA, and Dallas, TX (PRWEB) May 31, 2016
SCS Engineers is pleased to announce that Robert Butler is promoted to the position of Marketing Manager of SCS Field Services' Construction Division. He will replace the former Manager, Aaron Gilman, who retired earlier this year. Butler will work out of SCS's office in Bedford, Texas.
Mr. Butler brings decades of managing environmental construction projects, quality control, and leadership experience. During his ten years at SCS, he has applied his extensive qualifications to the estimating, cost administration, and delivery of landfill gas system installations and expansions. In his portfolio he has landfill gas migration remediation, landfill gas well drilling and installation, leachate force main construction, environmental decommissioning and demolition, and multiple remediation project management experiences. Mr. Butler is called upon for his specialized environmental rehabilitation experience and knowledge in the Gulf Coast Region.
"Robert's results oriented attitude is well suited to the broader position of Marketing Manager," stated Tom Barham, Senior Vice President of SCS Field Services. "Robert is an experienced professional with sound industry knowledge of construction, environmental and waste disposal practices to provide cost-effective solutions to our customers' solid waste, environmental and construction needs."
Butler earned a Bachelor of Science in Construction Management from Louisiana State University. He holds Hazewoper Training Certification; multiple Contractor Licensures for Landfill Gas and Leachate Collection Systems, Synthetic Liners, Hazardous Waste and Site Remediation, and Heavy Construction.