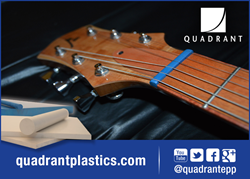 We're always looking for new ideas on how to push the limits of replacing traditional materials with plastics, particularly if they improve the application
Reading, PA (PRWEB) May 25, 2016
Demonstrating the innovative possibilities of thermoplastics, Maryland-based company Raygun Guitars has used Quadrant Engineering Plastic Products' (EPP) Techtron® HPV (High Pressure & Velocity) material to fashion high-performance guitar nuts for their instruments.
The guitar nut is an important part of any tremolo system, allowing guitarists to access a different range of sound at the press of a lever. Releasing the lever and returning to perfect pitch, however, is dependent on the level of friction within the system. Over the years, luthiers have experimented with different guitar nut materials, including bone, metal, ivory, graphite, and other composites.
Initial tuning stability tests done by Raygun owner/operator Chris Verhoeven revealed that a guitar nut made of Quadrant's Techtron® HPV material improved tuning stability to the point that, in a controlled environment, the impact to perceivable tuning stability was almost zero.
"I was just shocked at how well it performed," Verhoeven said.
As a self-lubricating material with excellent wear resistance and a low coefficient of friction, Techtron® HPV is a perfect solution for applications like the guitar nut, where a fluctuation of even 5 cents of a tone can be heard by a good human ear. The material is also chemical and hydrolysis resistant; has good dimensional stability and electrical insulating/dielectric properties; and has inherently low flammability.
"Quadrant appreciates the ingenuity shown by Raygun Guitars in using a thermoplastics material in an unconventional way," said Jim Hebel, Manager of Technical Service and Application Development at Quadrant EPP. "We're always looking for new ideas on how to push the limits of replacing traditional materials with plastics, particularly if they improve the application, like Techtron® HPV did with Raygun's guitar nut," he added.
Quadrant EPP is the leading global manufacturer of high-performance thermoplastic materials, with a broad portfolio of innovative thermoplastic, polymer, and composite materials. Raygun Guitars has been building and importing custom guitars for ten years out of Gaithersburg, Maryland.
About Quadrant Engineering Plastic Products:
Quadrant Engineering Plastic Products (Quadrant EPP) is the worldwide leader in high-performance and advanced plastic & polymer innovations. Its superior products range from UHMW polyethylene, nylon, and acetal to ultra-high performance polymers that resist temperatures to over 800°F (425°C). Quadrant EPP's rods, sheets, tubes, and custom shapes are widely used in food processing and packaging, semiconductor manufacturing, aerospace, electronics, chemical processing, life sciences, power generation, and construction & heavy equipment industries. Showcasing the largest portfolio of engineering plastic materials in the market, Quadrant EPP's global footprint includes over 2,000 team members across the world from application development and technical service engineering to branch offices and technical support.
Acetron, Borotron, CleanStat, Duraspin, Duratron, Erta, Ertalyte, Ertalene, Ertalon, Extreme Materials, Fluorosint, Ketron, MC, Monocast, Nylatron, Nylasteel, Polypenco, Proteus, Sanalite, Semitron, Techtron, TIVAR, and Vibratuf are registered trademarks of the Quadrant group of companies.
Media Contact:
Kim Imes, Marketing
Quadrant Engineering Plastic Products
kim.imes(at)qplas(dot)com
610.320.6709