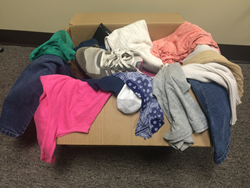 Elkridge, Maryland (PRWEB) May 23, 2016
Planet Aid applauds NPR's Morning Edition for its May 11th broadcast of an invaluable educational report entitled, "How Not Recycling Old Clothes Can Hurt the Environment." The report focused on the incredible volume of unwanted clothing that is being dumped in U.S. landfills every year, and why consumers need to stop putting textiles in the trash can.
"We are thankful that NPR chose to spread the word about this important but often misunderstood issue," said Planet Aid President Ester Neltrup. "This report is in perfect alignment with our own mission, which is to educate the public about the problem of textile waste and to offer a solution in the form of convenient drop box locations that encourage greater diversion of textiles from municipal waste streams."
Planet Aid collects approximately 100 million pounds of unwanted textiles per year through its network of clothing drop boxes. This volume not only saves landfill space, but saves tax dollars by reducing local government need to transport and handle this volume of unwanted material. Landfills are fast reaching capacity in the United States. In Massachusetts and Rhode Island, for example, landfill capacity will be completely depleted in just seven years.
Studies show that people want to recycle more, but will only do so if it is easy for them. This holds especially true for items that can't be put in the traditional curbside bin, like unwanted textiles which burden municipal recycling operations. Currently an average household throws away 700 pounds of used clothing and shoes per year.
By recycling this clothing rather than simply throwing it away, Americans can help save valuable resources, save tax dollars, minimize landfill disposal, and reduce emissions of greenhouse gasses.
About Planet Aid
Planet Aid is a U.S. 501 (c)(3) nonprofit and is registered with USAID as a private voluntary organization. Accredited by the Better Business Bureau's Wise Giving Alliance, Planet Aid collects and recycles used clothing and shoes as part of its environmental mission. The net proceeds from its 21-state recycling operation help to support projects aimed at eliminating poverty. Since its inception in 1997, Planet Aid has provided more than $100 million to support projects on three continents. Planet Aid supports programs in education, teacher training, nutrition and agricultural and economic development.