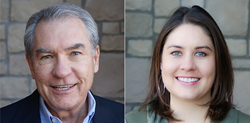 [ASCRS/ASOA] highlights innovations in surgical technology...
Springfield, MO (PRWEB) May 24, 2016
Ambulatory surgery center (ASC) development and management consultants Stephen Sheppard, CPA, COE, and Erin Malloy of Medical Consulting Group (MCG) joined the queue of presenters at the 2016 ASCRS/ASOA Symposium and Congress to discuss effective financial strategies for eye care providers.
Mr. Sheppard and Mrs. Malloy presented independently and cooperatively with other industry experts on a variety of topics. Among these topics were the financial implications of in-office cataract surgery, strategies to prepare for CMS' new payment methodologies, current valuation models for ASCs, and the importance of analyzing ophthalmic and optometric Medicare Part B utilization patterns for common eye procedures in order to examine a practice, find outliers, and compare yearly changes.
"The ASCRS/ASOA Symposium and Congress is the largest national meeting of surgically-oriented ophthalmic practices and ASCs," say Mr. Sheppard. "It highlights innovations in surgical technology and identifies emerging issues that will impact the clinical, surgical, and business operations of eye care organizations. MCG is pleased to have been asked to contribute to the professional program for the last several years."
MEDICAL CONSULTING GROUP
The medical business solutions provided by Medical Consulting Group include ASC and practice consulting, management, development, and revenue cycle management, as well as multi-media marketing and advertising campaign creation. These services are the product of more than 27 years of immersion in the ophthalmic and healthcare business industry.
Learn more about Medical Consulting Group at medcgroup.com or call 417-889-2040 to speak to a consultant.