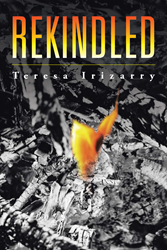 Roger Williams found that the true test of toleration does not come until you have the power to be intolerant, and must choose not to be so.
TEMPE, Ariz. (PRWEB) May 25, 2016
When should government step into social disagreements, and to what end?
"Rekindled," a 17th century historical novel by Teresa Irizarry, is a thought provoking, finely detailed portrait of the struggles to implement a practical separation of church and state during the first half of 17th century. Historical social pioneer Roger Williams' motivations and influences are chronicled as he challenged England's and Boston's authority, ultimately designing a separation of church and state as a haven for those persecuted for cause of conscience.
In "Rekindled," Irizarry uses research to restore the roles that Dutch thinking, American indigenous thinking, and Williams' scriptural interpretation played as he set up Providence. Irizarry uses fiction to fill in the historical gaps.
Why is this relevant to readers today? Public debate and social unrest during Roger Williams' time in the 1630s were also centered on debates over the right to freedom of religion, defining appropriate vs. unjust discrimination, and choosing which institutions should be publicly vs. privately supported.
Based on Irizarry's research, Roger Williams used the analogy, "We are all 'as in a ship.' On the ship are atheists, Muslims, Jews, spiritual individualists, Christians and others. We must defend to the death their right to have, publicly display their beliefs and convictions, including debate, holding forth in prayer and other worship. That, however, does not change the fact that the ship must be steered, the decks cleaned, and the behavior between men kept peaceable. The role of government is to protect the civil peace."
Irizarry shares Roger Williams' story about a time when the government's role was larger than it is today as well as the struggles this country's predecessors went through to find a lasting, just societal structure, which was and remains a large multi-generational cross-institution experiment.
"Roger Williams found that the true test of toleration does not come until you have the power to be intolerant, and must choose not to be so," Irizarry said.
For more information visit the author's website, http://www.rekindled.info/.
"Rekindled" By Teresa Irizarry
Hardcover, $35.99
Paperback, $14.95
ISBN: 978-1-50491-124-5
Available at amazon.com, barnesandnoble.com and bookstore.authorhouse.com
###
About the author
Teresa Irizarry worked as an engineer for a large corporation for several decades. She noticed that it was Roger Williams's enemies that controlled the narrative, and used her trouble-shooting skills in going back to the original sources to discover a new perspective on the Roger Williams. During her career she met memorable, brilliant people from all over the world who were pursuing the American dream, a dream forged in part in the previously de-emphasized or forgotten parts of this story.
**FOR IMMEDIATE RELEASE**
EDITORS: For review copies or interview requests, contact: Publicist: Andrea Hawman ahawman@bohlsengroup.com | 317.602.7137 (When requesting a review copy, please provide a street address.)