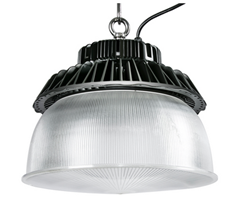 "These units are heavy duty and extremely efficient at 142 lumens/watt"
(PRWEB) May 25, 2016
MyLEDLightingGuide is proud to announce the addition of a new high powered high efficiency LED High Bay to its product line. At 142 lumens/watt, the 300W high bay is DLC Premium Listed, making it eligible for the highest rebate available. The LED High Bay produces 42,600 lumens and is backed with a 5-year warranty.
The LED High Bay is IP65 rated, and come with a myriad of options. Smart controls such as motion sensors can easily be added. An option to add up-light is available, redirecting 7% of the light upwards towards the ceiling. The small amount of redirected light produces a warm and inviting ambient environment.
"These units are heavy duty," says Neil Peterson, VP of Sales at MyLEDLightingGuide.com. "Massive heat sinks and great robust design ensure years of trouble free use. Further, the response to these high bays has been overwhelming. Customers love them!"
Guiding consumers towards more energy efficient, high in quality products, is our main goal, and we are achieving that by providing consumer a superior product when it comes to LED lighting solutions. We really just want to save some serious energy, all while creating a quicker ROI for our consumers.
About Us
It is our primary goal at MyLEDLightingGuide.com to help our commercial customers save energy and money by using safe, efficient LED lighting for their facilities. It is also our goal to try and educate our customers with real information about LED Lighting, and how to convert from their older style lights over to LED. You won't find a shopping cart on our site. It was our experience previously that what the customer thought he needed was not what he should have purchased. So we would rather take the time to educate and recommend the proper product LED solutions for our customers' requirements.
For more product information, check out this LED High Bays at:
http://www.myledlightingguide.com/led_high_bay_1000w_replacement__ip65-details.aspx
Media Contacts:
Neil Peterson – npeterson(at)myledlightingguide(dot)com