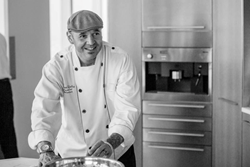 Creating an experience that cultivates confidence in the kitchen will lead to a wholehearted change in our guests' thoughts, behaviors and relationships with food
Carlsbad, California (PRWEB) May 24, 2016
The nation's premier weight loss resort, PFC Fitness Camp announces today their biggest upgrade yet—a state-of-the-art, interactive kitchen and top Wellness Chef, Jason C. Kieffer to transform the weight loss industry through the power of food.
Obesity is the single most significant nutrition-related health issue of the 21st century, hence the massive investment in the weight loss camp's private, fully interactive culinary experience. From the state-of-art demonstration kitchen and hands-on cooking classes, to an in-house recycling and composting program with a renowned wellness chef and certified nutritionist behind it all, PFC Fitness Camp guests will discover a new world of culinary skills and healthy flavors.
"Food is such an enjoyable part of life and vital element to sustainable weight loss," states PFC Managing Director, Zach Cutler. "Creating an experience that illuminates the power of nutrition, elevates the flavors of healthy foods and cultivates confidence in the kitchen will not only lead to significant weight loss but a wholehearted change in our guests' thoughts, behaviors and relationships with food."
And what's a top kitchen, without a top chef?
PFC Fitness Camp attracted the culinary expertise of renowned wellness chef, and now PFC Executive Chef, Jason C. Kieffer to rev up metabolisms together with the camp's certified nutritionist through a culinary experience weight loss camp seekers won't find anywhere else.
The CIA (Culinary Institute of America)-trained chef who revolutionized the corporate wellness culture of tech tycoons, Microsoft and Google and launched an award-winning nutrition program at Park City Utah's top medical center will fuel PFC workouts through calorie-controlled dishes, fresh from the local farms of San Diego and straight to every mouth-watering meal in PFC's own private dining facility. With an extraordinary experience in naturopathy and holistic nutrition, Chef Kieffer has redefined the kitchen as a place of true healing.
From hands-on cooking and nutrition demonstrations to weekly grocery store tours, Chef Kieffer delivers a healthy dose of positive energy and the latest scientific findings of food to empower guests for long-term success when they go home.
Now, who's hungry for weight loss?
About PFC Fitness Camp:
A luxury, all-inclusive fitness and weight loss resort nestled in the coastal foothills of San Diego, California at Omni La Costa Resort and Spa. Featured on the Today Show, CNN, Travel and Spafinder's Where to Sweat Destination, Southern California's premier weight loss camp holds the gold standard in optimal health, grounded in science and tested by top physicians and health experts in the industry. Dedicated to providing long-term success, PFC Fitness Camp offers a comprehensive approach to Behavioral Science, Nutrition and Fitness for a full wheel of wellness that has resulted in thousands of sustainable weight loss and life-transformations around the world.