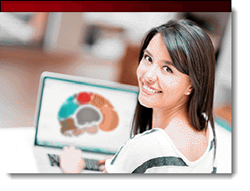 Brentwood, Tennessee (PRWEB) June 06, 2016
TrainingToday®, a leading provider of online education programs for employees and supervisors, has partnered with the technology training experts at Bigger Brains® to launch two all-new libraries: Microsoft Office Essentials and Microsoft Office Complete.
With these all-new libraries, customers can brush up on Microsoft basics or get more in-depth training depending on their knowledge level.
Courses in the Microsoft Office Essentials Library include:

Mastering Word (2010, 2013, and 2016)
Mastering Excel (2010, 2013, and 2016)
Mastering PowerPoint (2010, 2013, and 2016)
Mastering Outlook (2010, 2013, and 2016)
Windows 8 and 8.1 and 10 Essentials
Courses in the Microsoft Office Complete Library include everything in the Essentials Library, and also:
Mastering Access 2013
Office 365 Essentials
Intro to SharePoint
Microsoft Lync Essentials
Power Up PowerPoint
Microsoft Sway Essentials
OneDrive Essentials
What's New in Office 2016
What's New in Word 2013
What's New in PowerPoint 2013
What's New in Excel 2013
Skype for Business Essentials
Office 365 Groups Essentials
Office 365 Planner Essentials
Mastering OneNote 2013
Mastering Quickbooks Online
Mastering Quickbooks Pro 2013
Secrets of the Office Guru
The new libraries launch in June. You can learn more by visiting http://trainingtoday.blr.com.
About TrainingToday
For more than 20 years, TrainingToday has been a leader in online education programs. From helping employees acquire new skills to assisting managers in meeting their day-to-day challenges, TrainingToday's training programs offer an extensive course library, engaging and interactive presentations, and expert advice.
About BLR
Since 1975, BLR® has been one of the nation's leading information providers by offering authoritative content, training, and practical, easy-to-use tools in healthcare, HR & employment law, workplace safety, environmental compliance, compensation and benefits, and politics & legal markets. BLR's HCPro division is a leading provider of integrated information, education and training solutions in the vital areas of healthcare compliance, regulation and management. HCPro is a renowned expert in healthcare quality and patient safety field and has provided content, training and related services in these areas for over 25 years. HealthLeaders Media, a division of HCPro, offers a multi-platform services dedicated to meeting the business information needs of healthcare executives and professionals. HealthLeaders Media offerings include HealthLeaders Magazine. http://www.BLR.com
About Bigger Brains
Founded in 2012, Bigger Brains produces award-winning online training content in their "Uniquely Engaging" Teacher/Learner format. Most courses are filmed in their Anderson, SC studios and focus on topics related to Microsoft Office 365 and general business productivity.