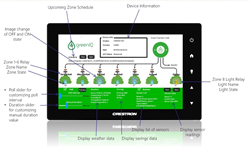 Tel Aviv, Israel (PRWEB) May 24, 2016
From connected thermostats to coffee makers, the indoor smart home movement is thriving, but our luscious lawns and outdoor spaces still hold huge potential. IoT startup and smart, wireless irrigation controller manufacturer, GreenIQ is looking to change this paradigm by leading the smart garden revolution with its latest integration with luxury building and home automation systems provider, Crestron.
Through Crestron's sleek touch screens or a simple tap of an Android or iOS smartphone, Crestron customers – from single homeowners through to building and business campus managers – can now fully automate and more easily monitor and manage irrigation schedules through the combined use of intelligent soil and moisture sensors and hyper-local weather information. This saves Crestron customers up to 50 percent on outdoor water consumption.
Other key customer benefits include:

Greater Control – Manage one to several irrigation systems, giving customers the freedom to remotely control their irrigation systems, whether that is for their own sweeping landscapes or for larger green spaces like business campuses or golf courses.
Useful Insights – Through an easy-to-use dashboard and mobile app, customers can monitor and gain key insights about their green spaces, such as a potential leakage or insufficient water flow.
Determine Ideal Watering Conditions – Made possible by GreenIQ's connected garden ecosystem, customers can automatically adjust irrigation schedules based on hyper-localized weather information from Netatmo's Weather Station and Rain Gauge as well as soil moisture sensor data from Parrot's Flower Power , and PlantLink.
Easy to Understand Water Consumption Measurement - By adding GreenIQ's flow meter, Crestron customers can review daily and weekly water consumption, so that they can better manage water usage and easily detect sprinkler faults or garden system anomalies.
"According to a recent survey by Coldwell Banker, almost half of Americans either own or plan to invest in smart home technology in 2016. Our goal is to meet this demand by continually expanding our ecosystem of sensors and devices to help make also outdoor spaces smarter," said Odi Dahan, CEO at GreenIQ. "We are thrilled to have joined forces with Crestron, as it means we are now able to bring the same level of control and convenience that consumers have come to expect indoors to the outdoors, while also helping their residential and professional lawn care customers to more easily manage, save money, conserve water and improve the overall health of their green spaces."
GreenIQ's Smart Garden Hub was recently recognized as a finalist at the 3C Smart Cities Challenge for its innovative approach to the connected garden and positive impact on water conservation. The competition was held in Tel Aviv with cooperation from the Brazilian government, Italian group, Planet Idea, the Tel Aviv University center for entrepreneurship, Startau, and the Israeli innovation center.
The GreenIQ Smart Garden Hub and driver for Crestron are available through its distributor, HouseLogix. To start your smart garden journey with style, please visit: https://www.houselogix.com/shop/greeniq-smart-garden-hub
###
About Crestron
At Crestron we build the technology that integrates technology. Our automation and control solutions for homes and buildings let people control entire environments with the push of a button, integrating systems such as AV, lighting, shading, security, BMS and HVAC to provide greater comfort, convenience and security. All of our products are designed and built to work together as a complete system, enabling you to monitor, manage and control everything from one platform.
Our products are backed by more than 90 fully-staffed offices that provide 24 x 7 x 365 sales, technical, and training support across the globe. In addition to its World Headquarters in Rockleigh, New Jersey, Crestron has sales and support offices throughout the U.S., Canada, Europe, Asia, Latin America, and Australia. Discover the world of Crestron by visiting http://www.crestron.com.
About GreenIQ
Founded in 2013, GreenIQ is an Internet of Things (IoT) startup that is leading the smart garden revolution. Ideal for home owners, professional gardeners, irrigation companies, commercial real estate and municipalities, GreenIQ's Smart Garden Hub allows garden lovers and professionals to better control irrigation scheduling based on hyper-local weather information, saving up to 50% on outdoor water consumption. Easy to install, the Hub connects to the Internet via Wi-Fi or 3G, allowing it to be remotely controlled anywhere at any time via GreenIQ's app – available on Android and iOS. The Hub provides a full ecosystem for the outdoors, connecting to a wide variety of smart devices and sensors, including soil moisture sensors from Parrot's Flower Power, to PlantLink as well as Netatmo's Weather Station and Rain Gauge, to determine ideal watering conditions. GreenIQ also works with IFTTT, allowing iOS and Android customers to set rules using GreenIQ IFTTT Recipes or personalized their own recipes to create automated triggers or commands to control their entire connected garden domain. GreenIQ is backed by Entree Capital and Gigi Levy among other investors, and its Hub was recognized for the Best of CES 2015 award.
For GreenIQ Smart Garden Hub at Crestron Application Market, see http://applicationmarket.crestron.com/greeniq-smart-garden-hub/
About HouseLogix
HouseLogix, Inc. is a pioneering multi-faceted US technology company based in Pennsylvania. Primarily the company offers a single source for IoT style devices and the driver/module software required to connect systems such as Crestron.