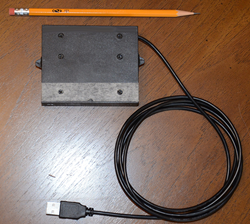 Real time monitoring is the future for the pest control industry. This new product advances innovation while cutting personnel and treatment costs. Douglas Stern, Managing Partner
Secaucus, New Jersey (PRWEB) May 25, 2016
Stern Environmental Group, of Secaucus, New Jersey, working in conjunction with a specialized technology firm will be selling the device branded as Stern's Real Time Monitoring (RTM) Device. Stern Environmental Group will sell the first monitoring product which is geared to bedbugs to the hotel and motel industry, colleges for use in dormitories, shelters, and nursing homes for real time bedbug monitoring in May 2016.
The launch of this first product heralds a new era of real time pest control monitoring for the pest control industry. For additional information on Stern Environmental Group and Stern's RTM device, please visit http://www.SternEnvironmental.com.
Visualization technology used in this device solves the problem of the high personnel costs associated with routine inspection of pest control traps. The first product to be sold using this specialized, cloud-integrated, real time technology will be targeted to the monitoring of bedbugs. By cutting the cost of personnel needed for the weekly inspection of old technology bed bug monitors and glue traps by pest control and housekeeping personnel, these devices will quickly provide a return on investment. The initial bedbug monitoring device's price is scheduled to be under $100. Stern Environmental Group believes that this new cloud-based monitoring technology will have many uses, including monitoring of stored product pests and has larger devices available to monitor for rodents and pest wildlife.
Stern's RTM (Real Time Monitoring) for bedbugs is palm-sized and has two traps consisting of heated, closable pest containment drawers, a lure compartment with dispenser, and LED alert trigger light. When powered on, Stern's RTM device for bedbugs, continuously captures images of the two heated containment drawer chambers. Using proprietary visualization technology the device recognizes if a pest has entered into one of the two chambers, minimizing false positives.
After a pest is detected, Stern's RTM device turns on an external LED alert light and sends an alert message to the Cloud along with images from the drawer compartments. It may also be programmed to close the drawer compartment doors. Using the cloud software, the client can configure to receive the images and alerts by email and/or text message. The alert along with additional details is recorded in the devices' cloud control panel. The device is small, yet technologically powerful, measuring 3 and 5/8 inches wide by 3 inches tall and ¾ of an inch deep. It connects to the Internet via Wi-Fi.
Ushering in a new era in pest control, Stern's RTM for Bedbugs, is the first pest monitoring device that allows for real time monitoring using Wi-Fi connectivity and image visualization technology. Although this relatively inexpensive device may not be right for every commercial situation, Douglas Stern, Managing Partner of Stern Environmental Group says, "Real time monitoring is the future for the pest control industry. This new product advances innovation while cutting personnel and treatment costs. By knowing which rooms need further inspection and/or treatment as well as providing proof of infestation at early and manageable stages, the device allows the property's management to solve pest problems quickly and to save money in personnel and treatment costs."
For additional information on bedbugs and sales of the Stern's Real Time Monitoring device for bedbugs and the associated technology contact Douglas Stern for an equipment demo. Stern Environmental Group is a top expert in bedbug extermination and provides commercial and residential treatment services in the New Jersey and metropolitan New York City region. Please visit http://www.SternEnvironmental.com for more information on this new innovative technology solution for college dormitories, and the hospitality industry.
About Stern Environmental Group:
Stern Environmental Group, LLC is a licensed and insured bedbug extermination firm and pest management company. Operating in New York City, New Jersey, New York, and parts of Connecticut and Long Island, New York for over 12 years, Stern Environmental Group has become a leader in bedbug control, pest control and pest management solutions in the New Jersey, New York, and New York City.