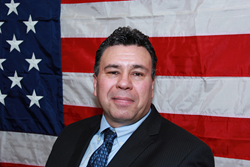 "Americans are fed up and they want change"
New York City, New York (PRWEB) June 03, 2016
For the first time in four years, Rep. Joseph Crowley, who has been in Congress since 1999, will have a Republican opponent to overcome for his re-election bid. The contest will be hard fought by Frank Spotorno, who recently became the official candidate of the Republican Party (he is also running on the Conservative line.)
Spotorno is a small businessman and a founder of the Bring Our Jobs Home organization. He has been a vocal advocate for increasing job opportunities – a significant issue in The Bronx and Queens.
Despite the need for jobs in the district to lift thousands out of poverty, Crowley, and all of the Washington DC establishment haven't done enough to help the average, everyday American, said Spotorno. "I welcome the challenge to face Joe Crowley this fall," said Spotorno. "For far too long, the people of the 14th Congressional District have been underrepresented, and deserve a Representative who will fight diligently to resolve their problems. We have far too many residents in the 14th district that can't find a decent-paying job and the poverty rate is unacceptable."
"I want to offer the voters an opportunity to vote for change in Washington, and to vote for change on November 8. The vast majority of Americans are fed up with the politics as usual that we see in Washington that results in nothing getting accomplished, and believe it's time to remove those career politicians that are responsible for it," said Spotorno.
As the owner of an elevator manufacturing company in the district, Spotorno brings current, practical experience to the vital task of creating an environment where opportunity can flourish. He intends to use his business experience, combined with his strong support of labor unions, to provide a unique and different choices to the voters this fall.
"This election should be all about jobs, and we need more good-paying, union jobs in this district," said Spotorno. "We hear a lot of talk from the presidential candidates on how to bring some of the millions of manufacturing jobs back home to the USA. Now we need to elect a member of Congress who will pass laws to encourage corporations to move back to America, and the 14th district."
Spotorno said he also believes the American electorate is fed up with politics as usual, and is ready this fall to vote for change. "Our current presidential election should show us all that Americans are fed up and they want change," he said. "It is time to make a change in this race, and tell Crowley, 'It is time to go, Joe.'"
Spotorno believes that free trade agreements, completed over the last 20 years, have been a disaster for middle class Americans. "If elected, I will not support the Trans Pacific Partnership, TPP, and would support any effort to renegotiate our previous free trade agreements, which are neither free nor fair for the USA. If we are truly going to work to bring our jobs home, then we need to stop giving tax incentives to our corporations to move their factories overseas, while at the same time provide tax incentives to corporations willing to bring their factories and jobs back home."
Fixing the health care system for our Veterans will be another priority for Spotorno. "The inability of our Veterans to receive quality medical care, and have their disability claims processed in a timely manner, is a disgrace. If our elected officials in Washington can't get this important issue fixed after several years, its time to vote them out."
Spotorno supports controlling Federal spending and to stop "spending the futures of our children and grandchildren." One common sense solution to managing our nation's finances is the Penny Plan, which would cut one penny of federal spending across the board. If millions of American families can cut their budgets at the kitchen table we should be able to do the same."
Spotorno would also support cutting the corporate tax rate to 15%, and to provide a one time 6% tax rate to the $2 Trillion dollars in corporate profits overseas. "We need to compete with the rest of the world, and give no excuse for our corporations to move their headquarters, and jobs, overseas. A 15% corporate tax rate would make us competitive again."
"We also need to bring back the $2 Trillion in overseas corporate profits, and use that money to create jobs and opportunities here in the USA. A one time 6% corporate rate on those profits would bring the money back home and bring in some money to the treasury."
Keeping in daily contact with the residents and voters in the district, will be Spotorno's #1 priority if elected, and that includes the Latino majority of residents and voters in the 14th district. "I have already met and spoken with many of the residents in the district," said Spotorno. "Some don't even know that Joe Crowley is their congressman. Others are not happy with his representation, and many Latino voters that I have met believe Rep. Crowley has completely ignored their needs. I think the majority of residents and voters in the district deserve a seat at the table. Let's at least agree to communicate."
Spotorno is also deeply concerned about the deteriorating defense of the nation. Crowley voted against the 2016 Defense Authorization Act. (http://clerk.house.gov/evs/2015/roll239.xml), despite rising threats from terrorists, North Korea and other hostile forces. "The many veterans in the 14th Congressional District know the horror of war," said Spotorno. "The only way to prevent another conflict is keep America strong and safe."
For more information, visit http://www.spotornoforcongress.com. For more information and for interviews, email spotornoforcongress(at)gmail(dot)com or call Dan Murphy--914-714-4370