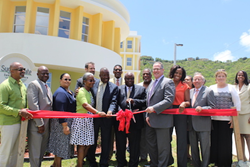 This community sets the standard for development throughout the territory
St. Thomas, U.S. Virgin Islands (PRWEB) May 24, 2016
With a festive ceremony headlined by The Governor of The Virgin Islands, and attended by island legislators and federal officials, executives from The Virgin Islands Housing Authority and The Michaels Organization celebrated the grand opening of Sugar Estate on Friday, May 20. The newly constructed affordable housing community for the elderly is located on the East side of the Foothills on the U.S. Virgin Island of St. Thomas.
"We are so proud to be able to offer our seniors much-needed affordable housing in a modern state-of-the-art community," said Noreen Michael, Ph.D., Chairperson of the Virgin Islands Housing Authority Board of Commissioners and President of the V. I. Housing Revitalization Corp.
Along with Governor Kenneth E. Mapp, VI Delegate to Congress Stacy A. Plaskett and Island Senator Marvin A. Blyden were among the dignities who spoke at the ribbon-cutting ceremony.
The Executive Director of the Virgin Islands Housing Authority, Robert Graham, hailed the new development as one which will "set the standard for development throughout the territory." He praised the construction, the view, and the accommodations as fundamental changes in senior housing design. The Sugar Estate is the first senior development built with VIHA as co-developer in a public-private partnership on St. Thomas.
The $35.7 million community, which offers 80 apartments, all handicapped adaptable, for seniors with low to moderate incomes was developed by VIHA in partnership with The Michaels Development Company, the nation's number one affordable housing owner.
Each residential unit features living, dining and kitchen areas, complete with energy-efficient appliances and ample storage. Amenities include on-site parking, laundry facilities in each building, a large community room with kitchenette, a "living room" which will serve as a quiet reading and/or visiting room, computer learning center, and on-site offices for management and social service functions.
Within the community spaces, social services will be provided that are centered on the needs of the senior residents and will emphasize wellness and resident empowerment through independent living. The social services will include case management, medical screenings, nutritional counseling services, training programs, financial workshops and social and recreational activities.
"We feel privileged to work with VIHA in bringing their vision for this development to reality," said Gary Buechler, president of The Michaels Development Company. "Now our sister company, Interstate Realty Management, will serve as the property manager, ensuring that Sugar Estate remains a long-term asset to this community," Buechler said.
Financing for the development includes $30.4 million in equity raised by the sale of 9 percent federal Low Income Housing Tax Credits allocated by the Virgin Islands Housing Finance Authority; Virgin Islands Public Finance Authority Territory funds, Virgin Island Housing Authority disposition proceeds, and a New York Federal Home Loan Bank Affordable Housing Program award. The tax credits were syndicated by Riverside Capital, LLC.
Other partners in the project include Prestige Building Company, which served as the general contractor, and Springline Architects, a full-service architectural firm based in St. Thomas. Prestige Building Company and its subcontractors employed 137 island residents during the construction phase of the project.
Joining today's celebration was the Michael J. Kirwan Terrace West Stars Steel Orchestra and Apostle Alger B. Warren of Faith Christian Fellowship Church Alive in Christ, who offered both the Invocation and the Benediction.
About The Michaels Organization
Michaels Development Company, Interstate Realty Management, and Prestige Building Company are all independent operating companies of The Michaels Organization, a family of companies dedicated to housing excellence in affordable, mixed-income, military, and student housing. Founded by housing visionary Michael J. Levitt in 1973, the companies of The Michaels Organization have created more than 50,000 housing units over the past four decades and is known for its award-winning property management and social services.
About The Virgin Islands Housing Authority
The Virgin Islands Housing Authority is an independent, federally-funded agency with a mission to create vibrant, dynamic, sustainable communities so families can evolve economically, and to improve lives and strengthen communities through quality, safe and affordable housing. The agency helps provide housing assistance to approximately 4,000 households through low and moderate-income Public Housing and Housing Choice Voucher Programs. Through partnerships with Territorial service providers, we offer residents opportunities to improve their lives. The Virgin Islands Housing Authority's Board of Commissioners is empowered with the responsibility for planning, financing, constructing, managing and creating attractive Affordable Housing Developments in the Territory. The agency has offices on St. Croix and St. Thomas. Its website is http://www.vihousing.org.