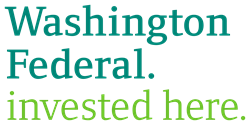 Chairman, President & CEO Roy M. Whitehead commented, "Washington Federal is quite fortunate to add Vince's extensive financial experience and track record of leadership to its Executive Management Committee."
Seattle, Washington (PRWEB) May 23, 2016
Washington Federal, Inc. (NASDAQ: WAFD) today announced the appointment of Vincent L. Beatty as Senior Vice President & Chief Financial Officer. Executive Vice President and Chief Banking Officer Brent Beardall, who has served as Interim Chief Financial Officer since September 2015, will resume his full time role as Chief Banking Officer for the Company.
Mr. Beatty most recently served as Chief Financial Officer for the Federal Home Loan Bank of Seattle from 2008 until its merger in 2015 with the Federal Home Loan Bank of Des Moines. Mr. Beatty joined the Federal Home Loan Bank of Seattle in 2004 and previously spent 13 years in various financial positions with First Interstate Bank, JP Morgan Chase and Glendale Federal. Mr. Beatty holds a bachelor's degree in Mathematical Economics from Pomona College and a MBA from the Anderson School of Management at UCLA.
Chairman, President & CEO Roy M. Whitehead commented, "Washington Federal is quite fortunate to add Vince's extensive financial experience and track record of leadership to its Executive Management Committee."
Washington Federal, Inc. is the parent company of Washington Federal, a national bank that provides consumer and commercial deposit accounts, insurance products, financing for small to middle market businesses, commercial real estate and residential real estate, including consumer mortgages and home equity lines of credit. Established in 1917, the Company operates 243 branches in Washington, Oregon, Idaho, Utah, Nevada, Arizona, Texas and New Mexico. As of March 31, 2016, the Company reported $14.7 billion in assets, $10.5 billion in deposits and $2.0 billion in stockholders' equity.
###