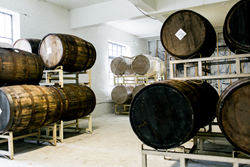 I don't think anyone is offering anything quite like it on the whiskey market - Max Lents, CEO
Baltimore, Maryland (PRWEB) June 06, 2016
The Baltimore Whiskey Company announced today the availability for purchase of full barrels of custom whiskey, distilled and aged in their Baltimore distillery. Already aging Baltimore Rye Whiskey, the company will open sales to one custom whiskey barrel a month, as a recipe collaboration between Eli Breitburg-Smith (head distiller), and the purchasing customer. The whiskey will be fermented and distilled in house, before aging at the distillery for a pre-determined amount of time, with two years being the standard.
"I don't think anyone else is offering anything quite like it on the whiskey market," said Max Lents, owner. "You can certainly buy full barrels of whiskey from some other, bigger distilleries. But as a small operation we are excited to be able to include the customer in the process: from recipe, to barrel type, to custom labels. It's really a unique opportunity for everyone."
The Baltimore Whiskey Company is the oldest Rye Whiskey distillery in Baltimore, having distilled their current stock of Rye in 2015. Their Shot Tower Gin, 1904 Liqueur, and Charles St. Apple Brandy have been released to great acclaim in the Baltimore area. The Baltimore Whiskey Company is currently open for tours, tasting, and bottle sales every Saturday from noon to 4PM and during regular weekday working hours.